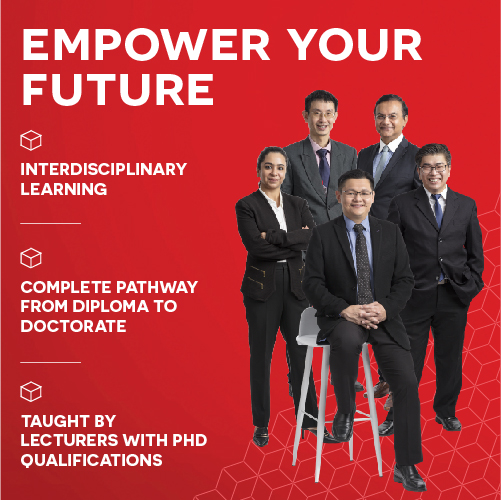 Master's Degree Programmes in Singapore
In a rapidly changing global market, many professionals and students alike see the need to upskill and deepen their market knowledge to remain competitive and employable in the long run. MDIS Master's Degree Programmes are designed to help professionals fill in the gaps in their critical skill sets and acquire advanced thinking skills to help them advance in their careers.
After completing a Bachelor's Degree programme, pursuing a Master's Degree can be a valuable investment for professionals as they shift from individual contributor roles in the company to managerial ones. For many, studying a Master's Degree is the next logical step that can best fit their goals and interests in their career growth. With bigger decisions to make, a Master's Degree in your field helps you to acquire specialised knowledge and new skills that are useful in a volatile, uncertain, complex and ambiguous (VUCA) business environment.
If you are looking to master and dominate your chosen field, this will be an essential step to take to gain a higher level of expertise. Take a look at this list of all full-time or part-time Master's Degree courses offered by MDIS here in Singapore and read more about the entry requirements today.
A Truly Global Education with MDIS – Master's Degree Programmes with Partner Institutions
To work effectively in today's workforce requires much more than just market knowledge and basic skills. Having an understanding of global issues and the bigger market is crucial to keeping businesses competitive in the long run. As a professional, it is imperative to keep up with the changes in the market for you to stand out from the rest.
The Master's Degree courses offered here in Singapore are awarded by overseas Partner Institutions that work with MDIS. These education institutes abroad are some of the esteemed universities with a track record of quality teaching methods, strong industry links as well as research capabilities.
Enrich your global perspective by choosing MDIS to pursue your Masters Degree in Singapore.
Full-time & Part-time Master's Degree - Enrol in MDIS 2023 Intake
Pursuing a master's degree can offer many benefits, including career advancement, specialised knowledge and skills, networking opportunities, personal growth and development, better job prospects, and increased credibility.
You can delve deeper into a particular subject area and acquire specialised knowledge and skills. It can be a challenging and rewarding experience that can help you develop greater confidence, independence, and critical thinking skills.
In some fields, a master's degree may be required for specific jobs, and having a master's degree can make you a more competitive candidate in the job market. Ultimately, a master's degree can enhance your credibility and reputation, demonstrating your commitment to ongoing learning and professional development.
If you are looking to be a master in your field, enrol into our full-time or part-time master's degree programmes awarded by globally recognised UK and US universities.
Part-time Master's Degree for Working Professionals at MDIS
Pursuing a part-time master's degree can be a beneficial option for those already working full-time or with other commitments. One of the main advantages of a part-time programme is its flexibility, allowing students to plan around their busy schedules. This can minimise the impact on work and personal life while allowing individuals to pursue their academic and career goals.
Part-time programmes are also more affordable than full-time options, as they offer the opportunity to pay tuition per-credit basis, making it possible to spread out the cost over time. Additionally, part-time students can often continue to gain valuable work experience in their respective fields while pursuing their degree, allowing them to apply their learning to real-world situations.
Ultimately, a part-time master's degree can be a practical and convenient way to advance your career and acquire specialised knowledge and skills without sacrificing other important areas of your life.
Here at MDIS, we have part-time, e-learning and online-based master's degree programmes to cater to the needs of working professionals and those with substantial commitments.
Get In Touch – Enquiries on Masters Degree Options in Singapore
We offer a range of Master's Degree Programmes across fields like Information Technology (IT), Business Administration, Life Sciences and Hospitality. Achieve your goals and further your studies with a Master of Science (MSc) in fields such as Cybersecurity, Health and Safety, Business Admin or Healthcare Management and more with MDIS.
Get started on improving your employability and distinguish yourself in the global marketplace. Several of our Master's Degree Programmes can be pursued as a part-time course if you are working full-time as well.
Visit our Frequently Asked Questions (FAQ) page to get an overview of commonly asked questions about the campus, resources and accreditation as an established private school in Singapore. To learn more about our Master's Degree for local or international students and what's in store for you, feel free to get in touch with us today.  
Enquire Now on Our Full/Part-time Masters Courses