Find Cyber Security Courses at MDIS' School of Technology (SOT)
The MDIS School of Technology (SOT) aims to help students who are keen to learn more about Information Technology (IT) and cyber security to gain a broad-based and holistic education in IT by providing a comprehensive suite of technology course offerings from diploma to bachelor's degree in Singapore. 
Several technology and cyber security degree certifications in the SOT are awarded by renowned universities from abroad – essentially giving students in Singapore an opportunity at attaining a well-rounded education with global perspectives. Teesside University, UK is one of our Partner Institutions from the many that work in conjunction with MDIS. 
Masters
Degree
Higher Diploma
International Foundation Diploma
The following programmes are currently on teach out mode. We are no longer accepting students for these programmes.
Higher Diploma in Ethical Hacking and Forensic Investigations Countermeasures, awarded by MDIS ( Teach-out by Mar 2023)
Get Started with Technology and Cyber Security Courses Offered at MDIS
If you are keen to work in the Information Technology (IT) sector, take a look at SOT's technology cyber security course offerings – from diplomas to degrees in Singapore – and get started. The International Foundation Diploma in Science, Technology, Engineering, Mathematics and Art - Technology awarded by MDIS prepares students planning to transition into a technology degree in Singapore. By combining subject knowledge, general skills in communication and writing, as well as practical application skills in technology, students can expect to build the foundation they need for a bachelor study in Singapore for IT or cyber security.
With the growth of new technologies, the demand for skilled IT professionals is rising as well. Attaining the relevant skills and qualifications with a technology degree in Singapore can give you an advantage in the competitive global job market. If you already have a bachelor's degree in IT, you can consider obtaining cyber security certification and receive training through courses offered at MDIS – in order to complement your existing IT skill set. Graduates can consider a postgraduate degree programme in cyber security to deepen their knowledge in a particular domain.
The range of facilities as well as extensive support from lecturers in MDIS makes it a university of choice for students to pursue their technology and cyber security degree qualifications in Singapore.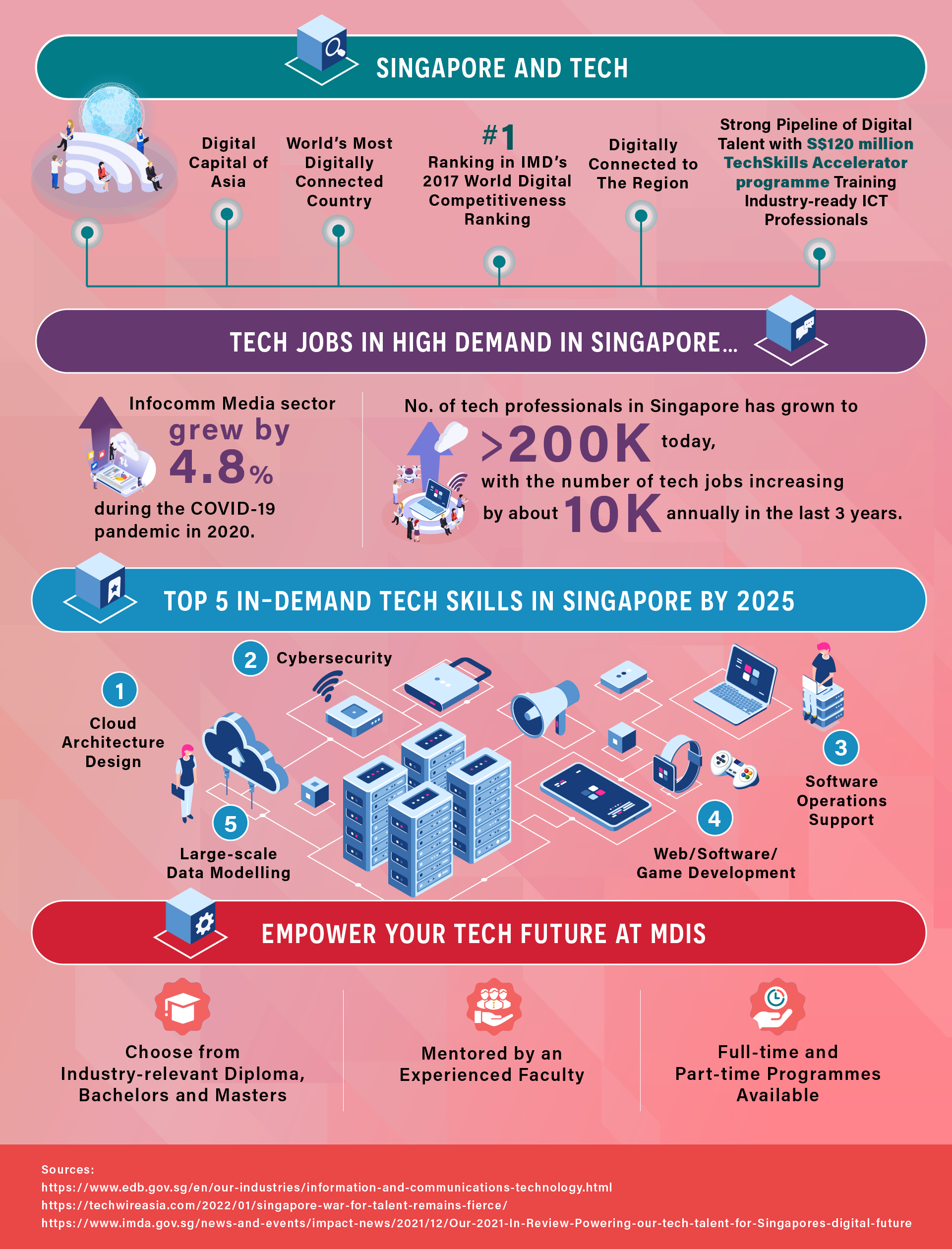 Questions About Information Technology and Cyber Security Course Options in Singapore?
What is cybersecurity?
Cyber security is the body of processes, techniques and technologies that protect Information Technology (IT) systems from cyber attacks and data breaches. Such attacks can severely damage a brand's reputation and compromise the security of customers. By engaging cyber and network security professionals, and conducting industry-recognised procedures, such as vulnerability assessments and scans, penetration testing and ethical hacking – enterprises can safeguard their assets.
Is cyber security a good career?
Yes, the demand for cybersecurity professionals has increased manifold over the past few years. As companies around the world digitalise and information is stored online and sent through networks or servers, cyber security has become integral to the economy. Cyber security is needed in almost every sector, from the financial sector to the transport sector, making it a career that offers several opportunities for those who hold the right certifications.
What qualifications do I need for cyber security?
A specialist diploma, bachelor's degree, or postgraduate degree in cyber security can equip one with the knowledge and skills to explore a career in this field. As a cyber security professional, you are required to implement and maintain security systems and this means most companies require that you obtain at least a diploma in cyber security. For those keen to learn the basics of cyber security, MDIS offers several IT, network and cyber security courses for beginners, training them in the fundamentals of IT security.
If you wish to advance to higher positions, companies would prefer that candidates have at least a cyber security bachelor's degree.
Does MDIS offer part-time cyber security courses?
Yes, MDIS offers part-time cyber security courses at all levels, including diploma, bachelor's degree, and postgraduate degrees. A part-time course generally takes twice the amount of time to complete compared to a full-time course. For example, MDIS' Higher Diploma in Information Technology and Cybersecurity course taken full-time requires 7 months, while if taken part-time, requires 12 months.
For additional information and guidance on admissions, scholarships and technology or cyber security course certifications in Singapore, you can contact us here. You may also visit our Frequently Asked Questions (FAQ) page where we cover questions on our campus facilities, resources available as well as accreditation as an established private education institution in Singapore.
Enquire Now on Our Technology and Cyber Security Courses
Please complete the following form with the information below and one of our representatives will get back to you as soon as possible.