Pursue Your Ambition in Life Sciences with School of Life Sciences (SLS) in Singapore
The MDIS School of Life Sciences open doors for those who wish to pursue their passion in the intriguing, diverse and fascinating fields of biomedical sciences and biotechnology.
As the demand for life sciences, biomedical and pharmacology increases in Singapore, the programmes we offer at SLS are designed to equip you with both subject-based expertise and application skills necessary in tackling the challenges and developments in the life sciences and medical field.
Upholding our commitment to lifelong learning and quality education, SLS partners with Northumbria University (UK) and Teesside University (UK) to develop and deliver robust and holistic life sciences programmes in Singapore. Pursue your ambition in the life sciences field by considering a biomedical course in Singapore with SLS.
Degree
International Foundation Diploma
The following programmes are currently on teach out mode. We are no longer accepting students for these programmes.
Bachelor of Science (Hons) Biotechnology (Teach-out by Sept 2025)
BSc (Honours) in Biomedical Sciences (Medical Biochem/ Medical Cell Biology/Cancer Biology) (Teach-out by Dec 2022)
Develop Your Skills in the Life Sciences Field in Singapore
Relevant to both local and international students, SLS offers a range of programmes in the life sciences field in Singapore. SLS offers state-of-the art laboratory facilities that are fundamental in developing practical skills through industrial research projects and research development. Prospective life sciences students can take a look at the Science Lab facility provided on the Singapore MDIS campus by taking a virtual tour.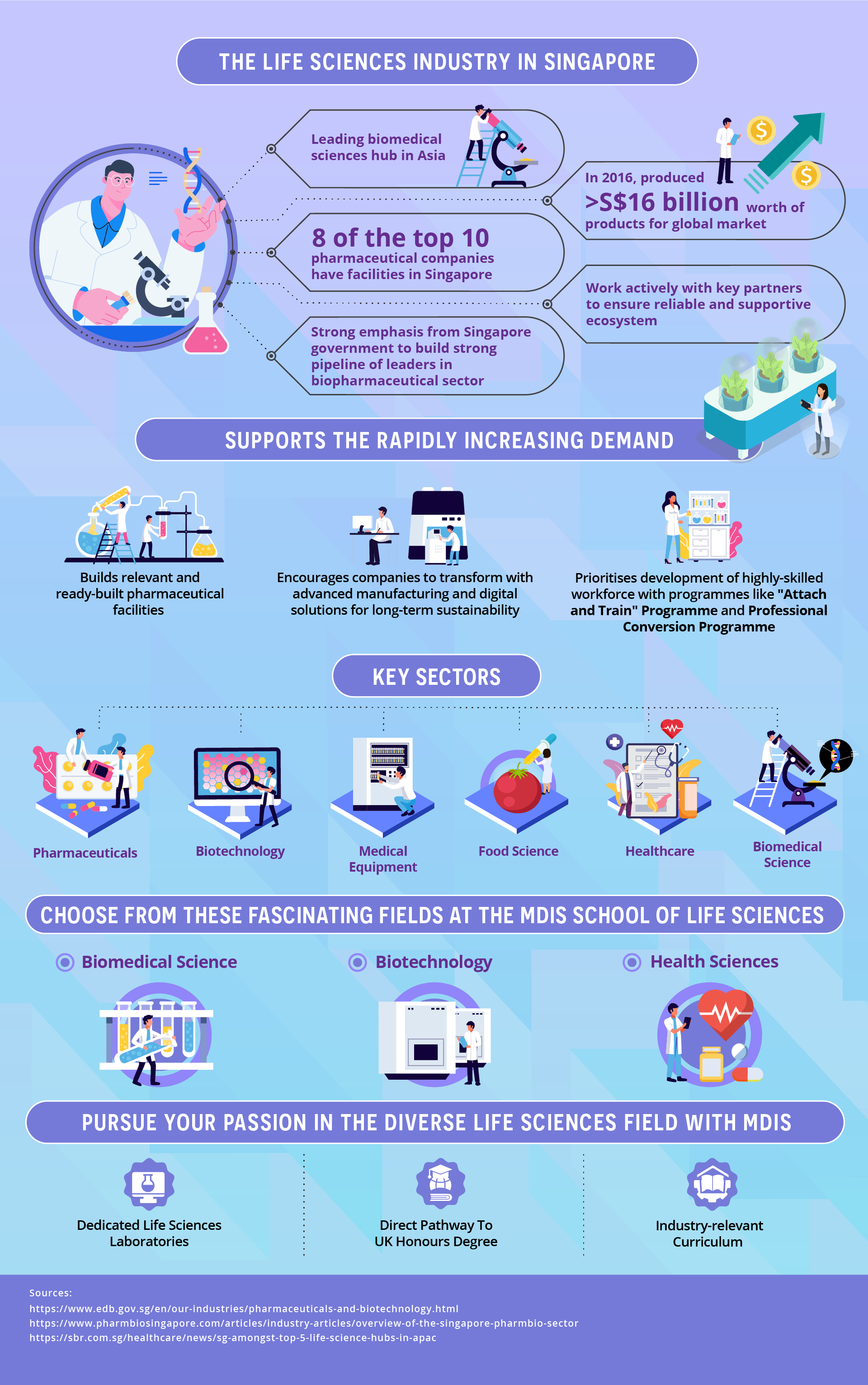 Interested in Life Sciences Courses in Singapore? Register Today
For queries related to life sciences academic programmes and admissions in Singapore, please contact us for relevant information and guidance. For general enquiries, our Frequently Asked Questions (FAQ) page covers questions concerning our campuses, certifications as an educational institute, and resources for financial assistance – among other topics.
The prestigious partnerships made with other reputable education institutes come with advantageous benefits such as academic rebates. To learn more, please click here.
Frequently Asked Questions (FAQs)
Enquire Now on Our Life Sciences Courses
Please complete the following form with the information below and one of our representatives will get back to you as soon as possible.