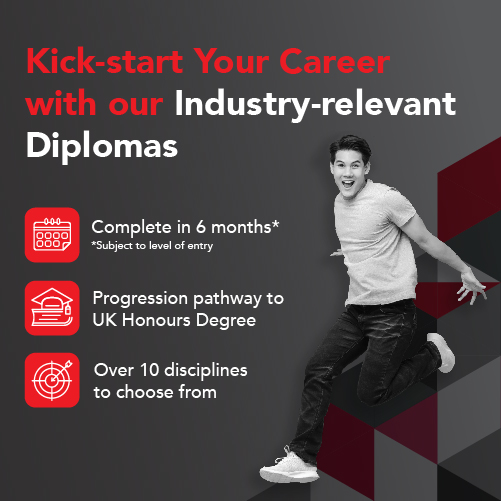 Advanced Diplomas in Singapore
Obtaining an advanced diploma can help to deepen subject knowledge as well as develop specialisations in the field you work in – whether in Singapore or abroad. These advanced diplomas offered in Singapore on a full time and part time basis are designed for fresh graduates as well as professionals with some amount of work experience and qualifications. Applicants holding a GCE 'O' Level, ITE, WSQ diploma or a Bachelor's Degree in the specialised field can take up the advanced diploma offered by MDIS here in Singapore.
Higher Diploma Courses in Singapore
A higher diploma will not only aid in you acquiring new skills that will assist you in your work life, but it will also help you gain a competitive edge over others in the same field as you. By taking up a higher diploma, you gain required skills and deepen your subject knowledge – effectively making you job-ready much faster.
If you are looking to pursue a Degree or a Masters, taking up a higher diploma can grant you greater access into other education institutes in Singapore and universities abroad as well. A higher diploma serves as a strong stepping stone into higher-level studies in Singapore. Armed with a good foundation of the subject matter as well as practical skills, your attainment of a higher diploma in the field you specialise in will give you a good head start into the career you aspire towards.
Diploma Courses in Singapore
Looking to develop your skills in a specialised field? Take a look at the diploma courses offered here in Singapore today. MDIS offers full time and part time diploma courses in fields like Fashion Design and Marketing, Fashion Marketing and Communication and Management Studies.
Taking up a diploma can prepare you for your chosen industry in a shorter amount of time and improve your employability as an employee in the job market in Singapore. Doing so can also boost your confidence in your career as you gain job-relevant skills pertaining to your specialisation.



International Foundation Diploma (IFD) Programmes in Singapore
Targeted at preparing students for transitioning into a Degree or a Masters level programme, an International Foundational Diploma provides strong fundamentals in skill sets and knowledge for building a career in your preferred field.
Get your International Foundation Diploma in a field that interests you and start your education off on the right foot. MDIS offers the International Foundation Diploma in several fields: Business, Engineering, Fashion & Design, Technology, Psychology, Media & Communications and Biomedical Sciences. Get prepared for your Degree today with International Foundation Diploma programmes offered here in Singapore.
An international foundation diploma serves as a good stepping stone towards higher-level studies, effectively paving the way for great career prospects in Singapore and abroad. With a good set of transferrable skills as well as subject knowledge, making the progression towards undergraduate study is much easier.