Nur Rashikin - Internship profile (Life Science)
Please introduce yourself to our readers in a few paragraphs (250-350 words). These may include anything fun and interesting as you would communicate to a newfound friend.
- Your background and interesting life experiences & Field of study and involvement in school activities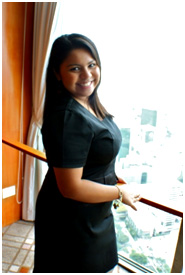 I am a fresh graduate from the University of Bradford's Pharmaceutical Management programme through MDIS. This is a particularly unique course that runs both business and science arms in a single degree. Here, one gets the opportunity to learn a myriad of subjects ranging from economics to clinical data management and project management in pharmaceutical development. A few months prior to graduation, I was offered an internship with a very well-established pharmaceutical company, Merck Pte Ltd. This internship experience is truly more than what I had expected. I am attached to the Regional Team and I am very grateful for having the chance to work with culturally diverse stakeholders from around the region. It definitely boosts my communication and interpersonal skills. Not only that, the vast opportunities that were entrusted upon helped a lot in character development and getting acquainted with the business. One of my major projects was to organise a regional medical meeting in Singapore for the affiliates in Asia.
- What is the best part of your current school/course
The best part would be having classmates who come from various countries such as Indonesia, India and Vietnam. It definitely widens my perspective. I would say different people have different style of working and it's really enlightening to get fresh insights every now and then. It encourages me to explore new alternatives and seek better ways of tackling new issues.
I hope to pursue a career in clinical trials. Furthermore, being one of the few Malay Muslims in this industry, I hope that more of my fellow Muslim friends share the same sentiment and may we continue to be an integral part of this growing industry. Not only that, pursuing a Master's degree is definitely on the list. I strongly encourage lifelong learning.
- What is your ideal internship?
An ideal internship is one that allows an intern to learn the fundamentals of the business unit and once they are familiar with the general operations, they could potentially offer ideas or even execute part, if not all, of the project. It is also value-adding if they could get an appraisal done every now and then to assess where they are on the performance chart.
And what kind of roles and responsibilities would you like to see interns taking up in a company?
Internship helps to nurture budding professionals. It would be good if interns could be part of a project because this would give them the opportunity to be resourceful, learn how to manage risk and timelines and groom themselves to be an attractive representative of the company. Apart from that, work rotation could be another alternative where interns are given the chance to interact with people from various departments and this makes it an even all-rounded experience.
You just won a plane ticket to anywhere in the world. Where are you going?
I have always wanted to go to New York. The city is just so vibrant!
Right after graduating from school, you are offered a privileged career in banking ($120k annual). At the same time a venture capitalist would like to invest $1 million with you to start a business and become profitable within 5 years. Which will you take on? Why?
I would take the risk of venturing into a business with that $1million. Often, fresh graduates are an eager bunch and they have a lot of burning ideas and desires, which they hope to materialise. I believe this is a good opportunity because it teaches me to be resourceful, independent and motivate me to be a risk-taker. Even though it's going to be a steep learning curve, with the right frame of mind and clearly written plans to drive the success of the business, a rewarding journey awaits.
How should readers/employers get in touch with you?