Geraldine Chiang - Internship profile (Mass Communications)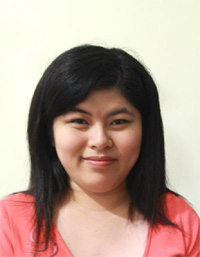 From the day I was born, life has been interesting.
Being premature left me physically disabled, and my parents' tales of how difficult life was during my childhood days has left me quite bewildered and unsure of how I survived to become a teenager who, finally, no longer struggled with my disability.
Initially my circumstances generated within me a level of confidence and self-esteem so low as to be disabling myself. Now, however, my condition does not daunt me, instead I face each obstacle as a challenge to overcome – approaching every hurdle and barricade with a smile and a determination to give of my very best. Whether you are sad or happy, life must go on, so why not look on the bright side?
Meeting my wonderful undergraduate classmates studying Mass Communication at MDIS, and our mentors, has been one of those things that make the bright side easier to see. I have learnt much of value from them and I have been especially touched by the sense of strength that comes from a realisation that there are people who have gone through worse times than I can even imagine. Because of their teachings, I will never again look at my past with sadness - if not for my past, I would not have become the person I am today and I would not have met such wonderful friends.
I really have to thank everyone for the wonderful years during which they have touched my life.
More prosaically, the projects we all were required to undertake allowed us to experience the equipment and software used in the industry. Most exciting of all, I actually got to learn the work that goes into making radio shows and films – hands-on! Before this course, whenever I watched television or listened to the radio, I always wondered what went on behind the scenes – and it was this curiosity that led me to choose Mass Communication as my course of study. After the course? Well, the work behind the scenes is fun! And really not that difficult after all.
What is your ideal internship?
As an intern, whatever I can accomplish, I will! I will push myself making my little (lack of experience) go a long way as, with the right attitude, one can always go even further. So, my ideal internship is one in which I can learn and support the company, one in which I can excel and grow and feel a part of something bigger than myself.
What kind of roles and responsibilities would you like to see interns taking up in a company?
I would like to see interns given more responsibilities related to their coursework - not just be assigned mundane tasks, but roles that demand intuition, careful decision-making and fine execution. No student should do an internship just for the sake of it, but rather for the dedication it ingrains and the nourishment it provides as a singular sense of achievement.
You just won a plane ticket to anywhere in the world. Where are you going?
I would go to a country offering an overseas internship to me so that I could become even more independent and experience life away from home and Singapore - away from this sheltered harbour, exposed to life and work in a totally different culture.
Right after graduating from school, you are offered a privileged career in banking ($120k annual salary). At the same time, a venture capitalist would like to invest $1 million in you to start a business and become profitable within 5 years. Which will you take on? Why?
I would start the business because there is no point in holding a job that I have no interest in (even if it offered a stable income). I would rather take on the risks and responsibility doing something that I love and, if I end up with a failed business, I will still have no regrets - as I will have tried, I will have experienced and I will have learnt. No risk. No gain.
Where can you create a whirlwind career: Google or Apple?
I would choose Google - the most popular search engine in the world. Anything you want to know, just Google it! I simply love to Google it!
Google is also an unconventional company and a pioneer of unconventional business strategies – both of which traits appeal to me. Google fosters innovation and creativity and depends on everyone being comfortable sharing ideas and opinions. The company encourages bold ideas and suggestions without reservation - if the idea is good, they will take it; if not, next! Creativity happens at its best when people are relaxed – which is why Google boasts a leisure greenhouse for bright ideas.
Their corporate culture tells it all: a fun and inspiring environment, lunch at any table, having conversations with anyone, choose anything to work on anywhere. Joy, openness and ultimate freedom! This is a place where I could realise my potential and achieve a lot more!
How should readers/employers get in touch with you?