Gisella Huang - Internship profile (Mass Communications)
A little about Gisella Huang, MDIS Mass Communications undergraduate...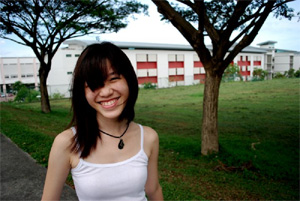 My passion is creating.
I love the freedom to imagine and experiment within a set framework, and to be actively involved in the process of creativity. Having been brought up as a visual person, with constant exposure to literature, the performing arts and several forms of artistic visual media; I am the type of person one might generally call "artsy".
My early life revolved around writing and theatre productions - mainly as an actress and director, until I considered the possibility of a visual media education. With the help of my youthful enthusiasm, I enrolled into the Bachelor of Arts in Mass Communications programme with Oklahoma City University through the Management Development Institute of Singapore.
Aside from attending lessons, I decided to make use of my pockets of time in school to be a part of both the Television and Radio Units in the Media Communication Club. However, this was far more challenging than I had expected. I found that I needed the:
Creativity to make programmes
Confidence to be noticed
Discipline to hold back my opinions when necessary
Initiative to build the portfolio I aspire to boast about by the time I graduate
The past year has marked a major milestone for me, having grown through the constant and diverse strains of my weekly radio programmes, productions for the TV Unit and competitions. While these accomplishments have given me greater faith in my abilities, I still wonder what my chances might be in the "real world".
The solution: An internship!
An internship to me must be like a first date with my career. I will learn and become better acquainted with the job, then with the requirements of the relationship. I will be an active participant in a situation where everything is fun and fresh, yet deadly serious. Disagreements may arise, but compromise will always be the key. In the end, I believe my life experiences will smooth my entry into the industry.
What kind of roles and responsibilities would you like to see interns taking up in a company?
Although it is a given that interns are attached to companies, interns should also be attached to experienced executives/managers who are willing to teach. The roles and responsibilities assigned to the intern should be close to those that the mentor assumes, with constant guidance being provided. This is because the relationship benefits the company as well. An intern without a mentor is like a horse without a jockey – there is potential, but without guidance and direction the hurdles may become so daunting as to be refused.
You just won a plane ticket to anywhere in the world. Where are you going?
Eastern Europe! Having lived in Asia all my life, I would love to experience some Western "culture shock" first-hand. The history there is very rich and this is evident in both the architecture and their visual media. The style of advertising, their fashion, and the grandeur of the arts is so distinct and original, and a trip there would immerse me in an experiential bath very beneficial to my career. Shall I pack now?
Right after graduating from school, you are offered a privileged career in banking ($120k annual salary). At the same time a venture capitalist would like to invest $1 million in you to start a business and become profitable within 5 years. Which will you take on?
I will go with the $1 million to start a business. I have no skills for banking and, whilst I cannot be sure the business will work, the chance should be taken. I'll give it a shot, and then I will know.
Where can you create a whirlwind career: Google or Apple?
My choice is Google, for sure. Google has the potential to expand into any market. Apple, on the other hand, currently appears to be adopting a casual, minimalist style of advertising. I would like to work with Google because of the possibilities it can make available to me.
How can readers/employers get in touch with you?
Via my email at gisellahuang@gmail.com. I'm an efficient worker.