2011 to 2015
Enhancing Quality Standards of Excellence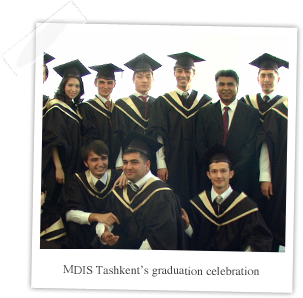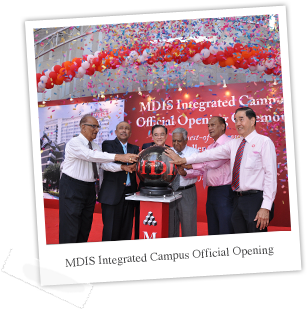 MDIS Tashkent celebrated its first batch of graduates from the University of Wales in October 2011.
In July 2014, MDIS acquired the Service Quality Centre Pte Ltd, pioneer soft skills specialist in service quality. The partnership is an important milestone in aligning MDIS' vision of promoting lifelong learning and to bring about synergy between MDIS' academic and corporate programmes.
2011 marked a 20-year successful partnership between MDIS and the Oklahoma City University, USA.
The EduTrust Certification was renewed for another four-year term from 30 Dec 2014 for MDIS and MDIS College.
MDIS Residences@Stirling, a S$80 million 15-storey student hostel, the largest built by a private education institution was officially opened in July 2011. The additional S$40 million upgrading project to increase the capacity of its existing campus saw the completion of the 6-storey main building in December 2012 with its iconic rooftop garden.
In 2014, the single-storey Einstein building was reconstructed into a four-storey building, with two floors of car park facilities, and two floors of classroom and a landscaped roof garden.
In July 2012, the Ministry of Higher Education, Malaysia approved the establishment of an MDIS campus with the approved college name, MDIS Malaysia. MDIS' second overseas campus, a RM300 million self-funded investment project, is the first by a Singaporean group in Johor, Iskandar.
The MDIS Malaysia, City Campus at Johor Bahru, City Square welcomed over 100 students in April 2014.
In September 2013, Malaysia's Deputy Prime Minister and Education Minister, YAB Tan Sri Dato' Hj. Muhyiddin bin Hj. Mohd Yassin officiated at the groundbreaking ceremony of the 30-acre freehold MDIS Malaysia campus site in EduCity@Iskandar, Johor. The ceremony was witnessed by the then Menteri Besar of Johor, YAB Dato' Seri Mohamed Khaled bin Nordin together with the President and Secretary-General of MDIS, dignitaries and guests from Malaysia and Singapore.
In 2015, MDIS was awarded the Singapore Service Class certification by SPRING in recognition of MDIS' commendable performance in service excellence.
MDIS' commitment in going green in the construction of the new Administration Building has earned MDIS the BCA Green Mark (Gold Plus) Award in 2013, and gained assurance that our green efforts are making a difference to the environment.
True to MDIS' commitment of inspiring students' minds, a series of bronze statues embodying holistic, academic, professional and career success of students were erected at the inner courtyard of MDIS' Campus in 2015. These statues serve to motivate students to work towards excellence and success in all aspects of their lives.
In November 2015, MDIS received the Enterprise 50 (E50) Award, a true mark of MDIS' contribution and resilience in spurring Singapore's economy.
* Disclaimer: MDIS has made every effort to ensure the accuracy of the MDIS Heritage website content and shall in no event be made liable for any consequences arising from the usage of the content. MDIS also owns the copyright of the contents, materials and reserves the right of use.