Ushering the Lunar New Year with 12 unique zodiac creations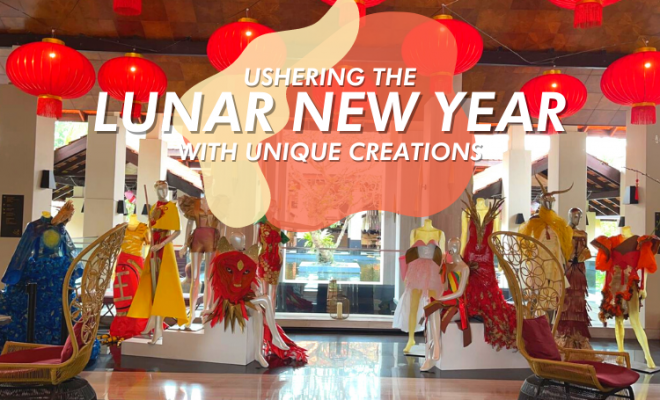 MDIS School of Fashion and Design collaborated with Sofitel Sentosa once again, this time for a Chinese New Year-themed collection, Rediscover Prosperity in February 2021.
The theme Rediscover Prosperity aimed to usher in the Chinese New Year, while giving it a French Haute Couture spin, in keeping with Sofitel's branding and heritage. Our students were tasked to design an outfit resembling one of the 12 Chinese Zodiacs of their choice, using only one type of sustainable material – paper.
These creations also had to incorporate elements and silhouettes that uniquely represent the chosen Zodiac. To illustrate the grandeur of the New Year while alluding to French Haute Couture, gold elements were also incorporated in the designs.
A total of 38 second-year students from the Bachelor of Arts (Hons) Fashion and Textile Design programme with the University of Portsmouth, UK, and the Higher Diploma Fashion Design and Marketing programme participated in this collaboration.
This was the first time that the students created their own outfits made out of paper. To top it off, they only had 10 days from conception to completion of the project.
Of the 38 designs submitted, 12 creations made the shortlist to be showcased at the Sofitel Sentosa resort lobby. Owing to safe distancing measures implemented by the hotel, the designers were allocated strict 2-hour slots each to assemble their creations on-site – the final challenge for the shortlisted students.
Head, MDIS School of Fashion and Design, Bernie Xu, was pleased with the success of this project. He shared, "Through this project, students were inspired and learnt the communication and integration of lines and structures between 2D and 3D forms."
"Within the timeframe imposed, students also learnt to manage their time more effectively for the different tasks to ensure the perfect visual effect," he concluded.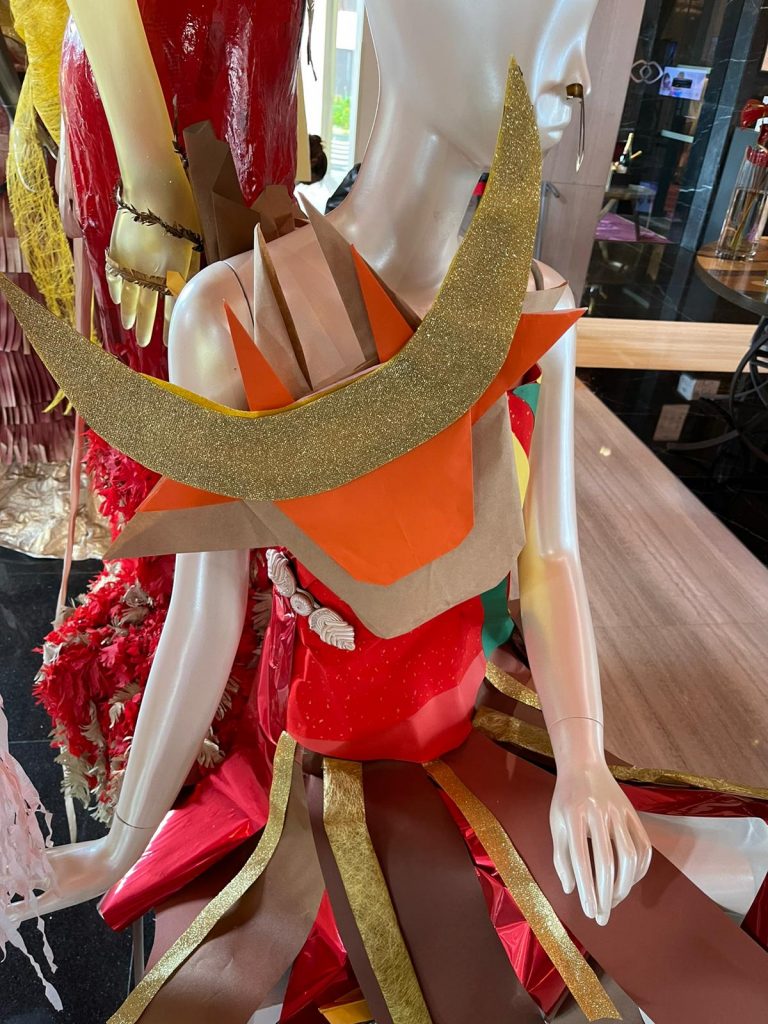 The ox zodiac symbolises power, confidence and patience. Inspired by the masculine silhouette of the ox, Ma Ni decided to challenge gender stereotypes by transforming the silhouette into something feminine yet empowering. She adorned the neckline with a horn, creating an exaggeration of detail that brings power to the overall outfit.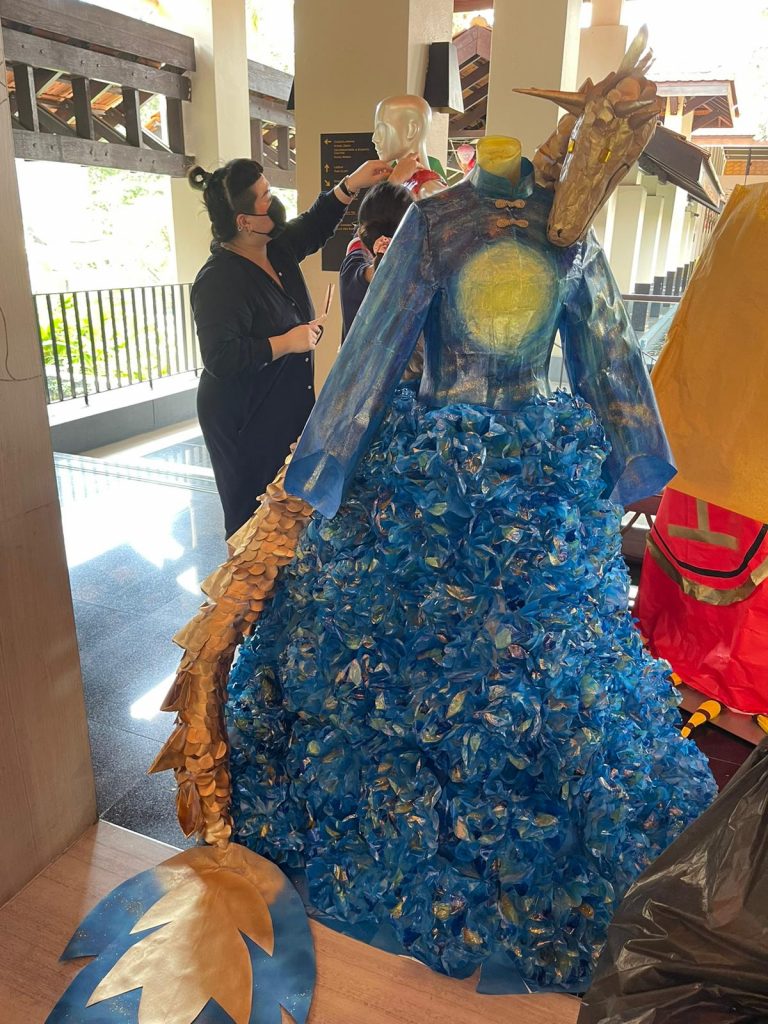 Maria's zodiac of choice was the dragon – a symbol of prosperity and abundance. Inspired by the night sky, Maria created an outfit that was primarily blue, adorned with specks of gold – to symbolise the stars and the moon. Taking reference from the qipao, a traditional Chinese costume. Maria transformed it into a maxi dress, and arranged the train of the dress to trail down like clouds.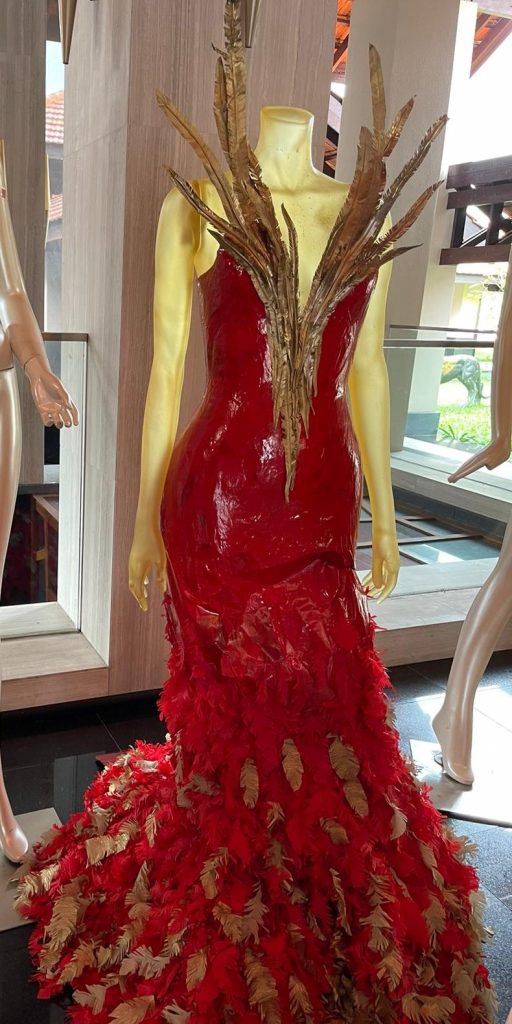 In Chinese culture, the prosperous and courageous nature of a rooster represents the beginning of life and an end to darkness. Valerie was drawn by the masculine stature of the rooster and the vibrant colours of its feathers. To achieve that look, she went for a fit and flare silhouette for her costume, using a corset as well as a mermaid-styled skirt.