Five Reasons to visit Kazakhstan
As a student from Kazakhstan, I realised that not many nationalities really know about my country, and to my great surprise some even don't know about existence of it! So, I shall share some common facts about Kazakhstan which will give a glimpse of this stunning country.
1. Nature
Being the ninth biggest county in the world Kazakhstan's environment varies from steppes and deserts on the central and south-western parts of the land to highest mountains which can reach up to 7,000 meters. Did you know that Kazakhstan has one of the largest canyons in the world and can be in the same position as The Grand Canyon located in the USA for its fascinating views? Or did you know that despite its name "the Caspian Sea", it is considered as the biggest lake in the world? If you are a nature lover, Kazakhstan is definitely a 'must go' item in your list!
2. History
Sometimes people who have read the history of the world may not know some common facts about Kazakhstan and its historical influence on other countries. Here are some unique facts for you on Kazakhstan's history:
Indian race was originated from Aryan race who actually came from the Central Asia.
The Great Wall of China was built to protect the country against raids and invasions of nomadic groups, namely, Huns who nowadays are Kazakh people.
"Battle of Artlakh" between the Arab Abbasid Caliphate along with their ally, the Tibetan Empire against the Chinese Tang dynasty has been in the valley of the Talas River which is located in Kazakhstan.
After this situation all Kazakh people adhered to Islam and are Muslims.
Here, I have outlined only three historical facts. However, if you visit the country, you will surely get to know more!
3. Cuisine
One of things that I like impressing my foreign friends is that Kazakh people eat horse and camel meat and drink mare and camel milk. Kazakh cuisine mainly consists of dough and a big amount of meat. At most times, spices are not added to the dishes except for salt and pepper, and it is very hard to find some spicy food. This kind of unique cuisine attracts a lot of travellers around the world.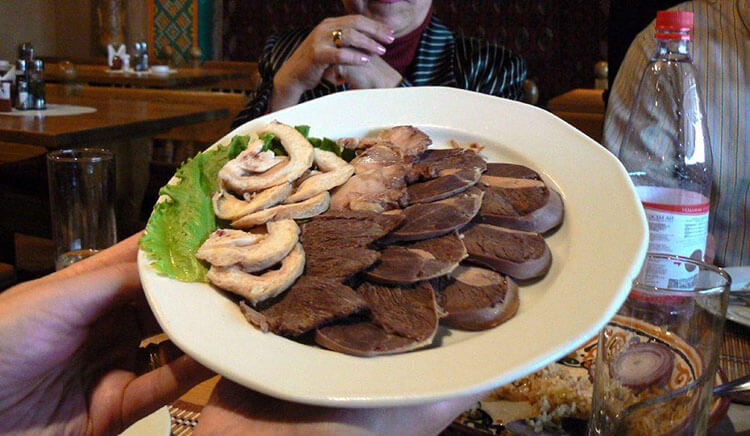 4. Culture of Hospitality
As a student of the School of Hospitality and Tourism, I should mention that Kazakh people are very friendly and are always happy to welcome new guests to their homes. If you go to any Kazakh home, you will be treated with the best savouries and will be served with luxury cutlery and crockery that the house owners keep only for special guests. English is not an official language of the country and not spoken by the residents. However, if a foreigner asks a random Kazakh person in the street for assistance, he or she will try their best to assist you. Even though they don't know your language, they will find ways to help you.
5. Climate
In one research it was found that Kazakh people are one of the nationalities that can work in any part of the world due to the country's differentiated climate. In Kazakhstan, you can see all four seasons: Golden autumn, snowy winter, blossoming spring and sunny summer. In summer the temperature in some parts of the land can reach up to +40C or even +45C while in winter it cools down till -40C or -45C.
Hope you have found all of this fascinating and you are inspired to make a visit!
Article contributed by:  Yelnur Alyakbarova