MDIS Immersion programmes
Learning multiple languages need not be difficult for your child provided they have the right learning environment. Every child is unique and has its own attributes that they bring to the classroom. For many children, these attributes include a different language that is spoken at home. English language learners are students who are in the process of learning English in the classroom while their home language is different.
Immersion programmes can be enacted in a variety of ways. This sink-or-swim approach has not proven particularly effective, often frustrating and discouraging children rather than teaching them. But like any teaching method, immersion programmes have benefits and drawbacks.
Immersion programmes require the student to learn quickly in order to keep up with the class. It also increases the likelihood of the child becoming fully bilingual at a young age. At the same time, it can be discouraging at first when the child is struggling to understand English and unable to address the issue of parent-teacher language barrier.
However, a native-like environment for English can be established in a classroom, even in a country where English is not the native language. English is an 'official' language in Singapore. Singapore has a bilingual education policy, where all students in government schools are taught English as their first language. MDIS offers full immersion, which means that the teacher speaks only in English with little to no regard for the student's native home language. Students from Indonesia, Korea, Russia, Uzbekistan, Kazakhstan and many other countries come to Singapore every year with an opportunity to immerse themselves in English language and culture and also to interact with students from other countries who are also learning English at MDIS.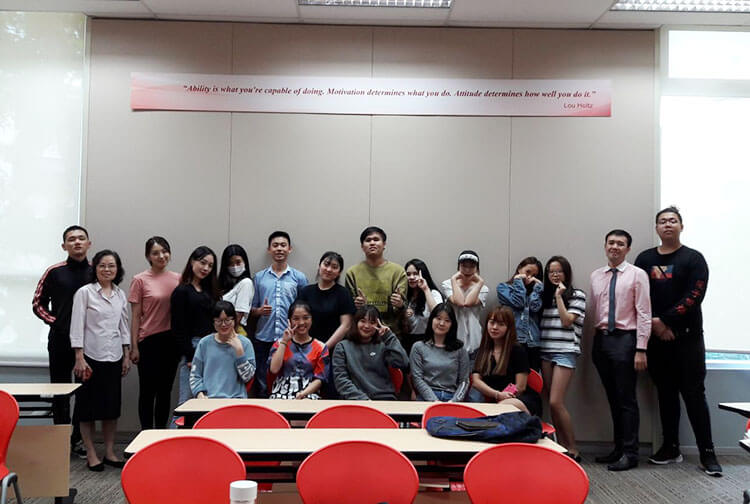 While students are at school, they speak English; they learn and interact in English. Learners are provided with an environment where they can pick up English with little to no explanation. They interact with other students from different countries and constantly develop proficiency by adding new vocabulary and contexts to their comprehension and assimilation. In the course of the programme, learners have access to authentic English because they are exposed to English teachers from different countries in various contexts, which help them to detect sociocultural differences. Rather than focusing solely on language instruction in such programmes, MDIS teachers not only conduct grammar and vocabulary classes but other facets of the English language. Students benefit as they are taught content as well. This content can be anything from fashion designing, tourism and hospitality to cooking techniques. In addition, the teachers include numbers as part of students learning experience introducing math, games, surveys and statistical analysis, etc. They keep dice and playing cards in their classroom for unexpected free moments and are patient with their students as they try to remember the English words for the numbers they already know. Music is another great teaching tool that is incorporated into their immersion programmes. Finally, field trips and cultural experiences also expose students to English. These activities keep students engaged and focused on what they are learning.
References: http://bit.ly/2r8gvh7
https://www.youtube.com/watch?v=D6HUv2eFdLg