Chingay Parade Singapore is an annual event organised by the People's Association, held during the Lunar New Year period. Given the circumstances we are facing currently, Chingay 2021 will be presented as the very first DIGITAL CHINGAY with the theme "Light of Hope".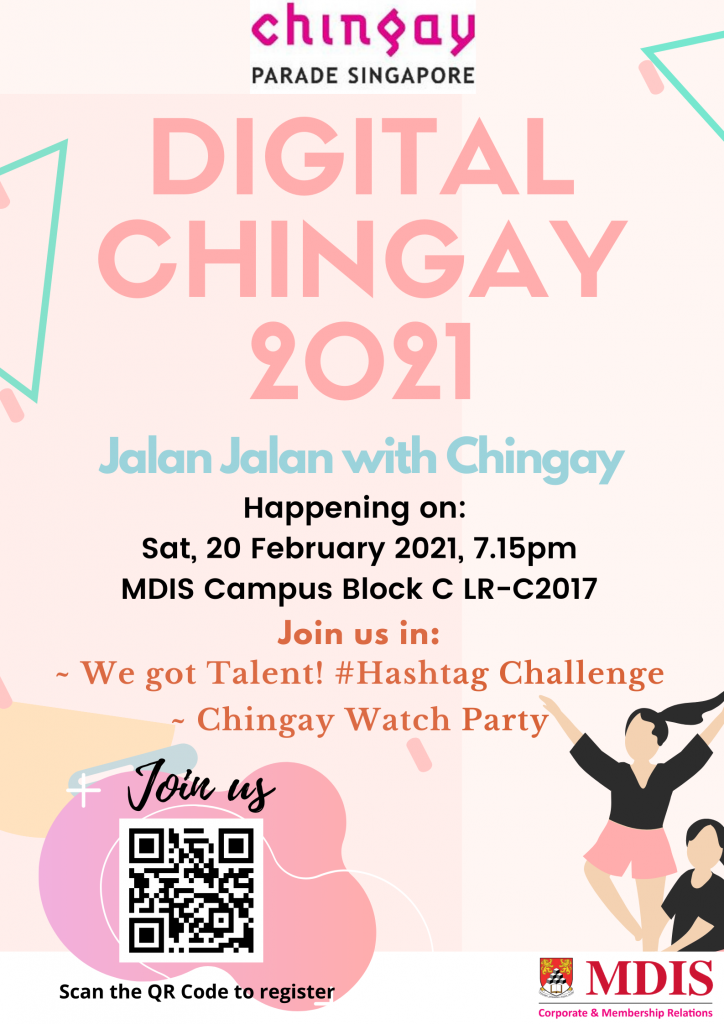 MDIS will be participating in the below activities:

1. Sing With Me!
Thank you to the 12 participants. Currently, four of our participants have made it to the billboard of Digital Chingay 2021.
All 12 participants will be presented together with other participants during the Special Webcast/Telecast on 20 February 2021.
2. We've Got Talent! Hashtag Challenge
A chance for family, friends, neighbours, and organisations to come together and showcase their talents by recording a 1-min creative video together on FB/IG! Submit your videos to cau@mdis.edu.sg by 26 February 2021 and stand a chance to win a 3D2N staycation worth $2,000!
We currently have 3 submissions on our IG now: https://bit.ly/2Yv0YJ8. All the best to our participants!
3. Chingay Watch Party
50 students and staff will enjoy a fun evening together watching the Chingay 2021 Special Webcast on Saturday, 20 February 2021 at MDIS Campus Block C LR-C2017. There will be a bunch of fun activities that you can participate in to win some prizes! Three lucky winners will stand a chance to win Capitamall Vouchers.
Scan the QR code to register for the Chingay Watch Party 2021.
For more information, please contact Rachel at the CMR office.