The creative process of fashion design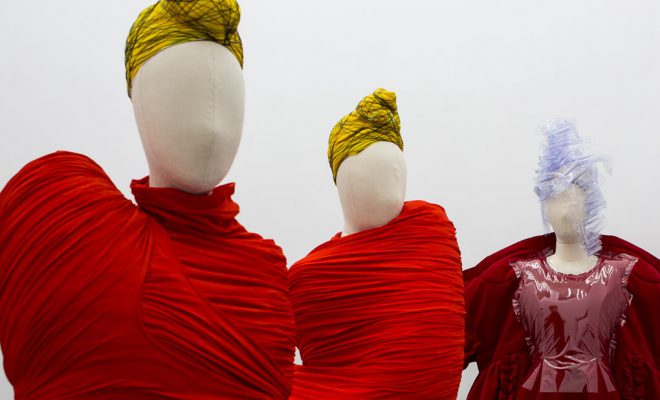 The creative process of designing a piece of garment varies vastly from designer to designer and the market segment that is being designed for. It could be from building mood boards with imagery that embodies the sentiment of the designer. For some others, it can mean going to the streets visiting vintage shops and placing those garments on to a dress form and rebuilding them into a new garment. It could also mean spending days and months at the library sourcing inspiration from history books. Whichever way is preferred, inspiration points are very often the start for many designers.
Once a designer has a concept in mind, sometimes firm but more often vague, it is time to synthesize the creative process. Some begin with sketching while some others by draping fabrics on a dress form or even a live model.
For instance, a designer like the late Alexander McQueen preferred to work a form, while the team at Marimekko starts with textiles. A few others even use sophisticated machinery and innovative methods, like Iris van Herpen using CAD (computer-aided design) software to 3-D Printing machines.
While most designers use a tried and tested way of inducing and developing the creative process, we, here, will look at three who have formulated their own way, whilst keeping to the phases discussed earlier in the basic cycle of design; And in doing so have gone against what most people would think to be the norm, designing beyond the threshold.
We will also compare and contrast their methods and find a unifying key principle in their methodology. Roozenburg & Eekels basic cycle of design (1995) will be used as an analog of the principle used in educational institutions and in the work field.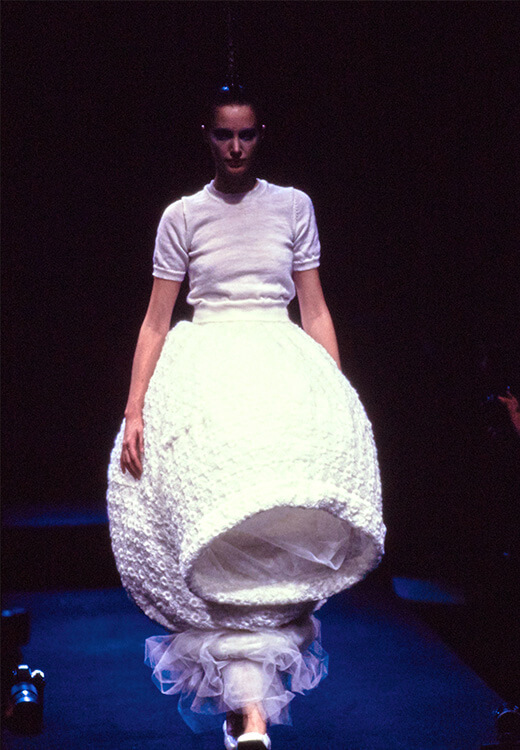 1. Rei Kawakubo
Rei Kawakubo, of Comme des Garçons, is known to be highly conceptual in approach and design. The 75 year old veteran, who has a fine arts and literature major, started working in a textile company before forming her company. While starting a fashion company without a background in fashion may be risky, it has its benefits.
As an untrained fashion designer, linguistically she was never exposed to how fashion should or should not be and that leaves space for greater creative freedom in her process. Synthesis, as discussed earlier, is seen as the origination of ideas and a psychological process that is a moment of externalization and description of an idea in whatever form (verbal, sketch, model, etc.). Without Kawakubo's training in fashion school, her perception of synthesizing is very different from the norm but still as effective, proven by her years of success. Kawakubo succeeds in innovating because she avoids the trap of linguistic determinism. She aims to "…design clothes that have never existed." beginning with no assumptions about the form that each garment will take, and refuses to categorize her works according to form or function. 'I decided to start from zero,' she tells The New York Times, 'from nothing, to things that have not been done before.' She explains "You can even make clothes without paper patterns…we don't apply the usual patterning routine to our conceptual making process, it is just cumbersome." (Shimizu, 2005) and this method of operandi has influenced her pattern makers. Tomoyuki Uchida, a pattern maker says "I don't want to simply follow the ordinary way of making a paper pattern from design and then sewing accordingly, I am looking for something other than that" and with that the Simulation and Evaluation steps in the design cycle are completed in essence.
Kawakubo's designs have always been driven by freedom. The sheer refusal to take part in the fashion game has gathered acclaim and she stands almost alone.
"It is tough job, particularly the sensuous aspect of the work. I wouldn't do it though if it was something you could describe easily. I like it when I find something that happens unintentionally. Having a concept is important, but it could easily be overkill. An intuitive attitude should always be encouraged. One example is the collection where "sweet" was the concept. This easy word makes it even more difficult. Not any designer would choose something this simple as a concept but Comme des Garçons could." Uchida proclaims in an interview for a book.
This collection came to pass in 1995 titled "Sweeter Than Sweet" with garments resembling sweet wrappers and sugar