Vietnam, an agricultural country is divided into three distinct regions: North, Central and South. It is the geographical, cultural, ethnic and climatic characteristics that define the specific characteristics of the country's regional cuisine. Each region contributes to the rich and diversity of Vietnamese cuisine with a combination of flavours that are salty, sweet, sour and hot. Perhaps, you may know of some famous food, such as Pho, bread, broken rice, sticky rice and spring rolls. Besides the main course, there numerous tasty and delicious that are worth a try!
1. Banh Trang Tron (Rice Paper Salad):
Price: 5.000VND to 10.000VND (S$0.30 to 0.80 cents)
Rice Paper Salad is not only popular among Vietnamese youth, but also with children and the elderly. Simple toppings such as rice paper, dried shrimp and varying ingredients according to the seller (usually lung burns, rau ram herb, papaya, soy sauce), mixed with fish sauce, sweet tamarind and vegetables, creates a mouth-watering delight.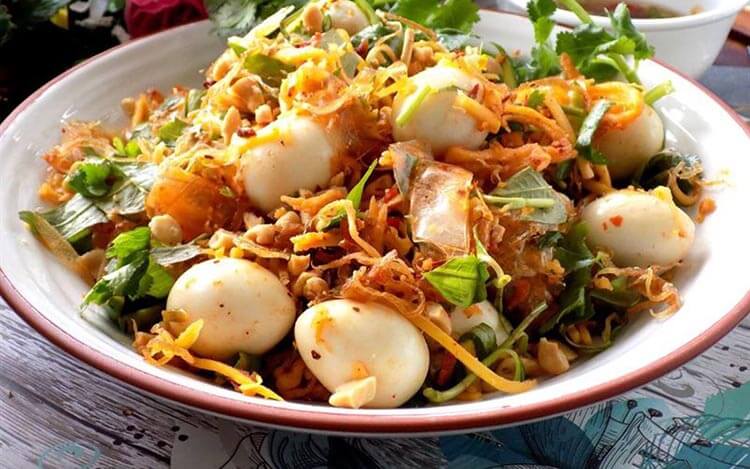 2. Goi Du Du Bo Kho (Papaya salad with Shredded Beef Jerky)
Price: 20.000VND to 30.000VND (S$1 to S$2)
Vietnamese green papaya salad is served in two ways – either with earthy beef jerky and heady Thai basil or the southern Vietnam version with shrimp, pork and rau ram herb. The northern Viet green papaya salad made with beef jerky includes slivers of smoked liver and lung. There are two salad dressing options: one is a fish sauce and lime dressing and the other is soy sauce with spices.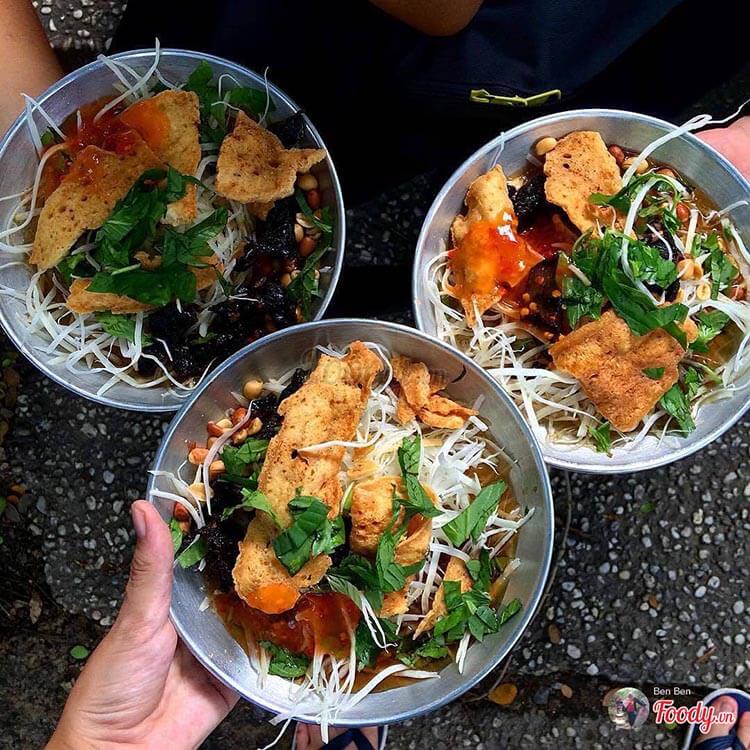 3. Oc (Snail)
Price: 30.000VND to 50.000VND (S$2 to S$3)
From a side alley to a large street, it is easy to find a good restaurant for a meal. Besides, snails there are many types of seafood offered at these places. The snails are usually steamed, boiled, fried and /or oven baked with spices such as garlic, onions, peppers, chopped vegetables and tamarind.
4. Che (Sweet Soup):
Price: 5.000VND to 10.000VND (S$0.30 to S$0.80 cents)
Desserts are amazing in Vietnam. Termed as sweet soups, they are offered in variety of combinations. The Saigon sweet dessert with coconut milk and shaved ice is served with interesting variation, such as, jams, mashed potatoes and baked flour. Also, do remember to try the banana with sago pearls and coconut milk sweet soup (che chuoi), sweet glutinous rice dumplings (che troi nuoc), Vietnamese sweet corn pudding (che bap), sweet potato, taro and cassava dessert (che ba ba).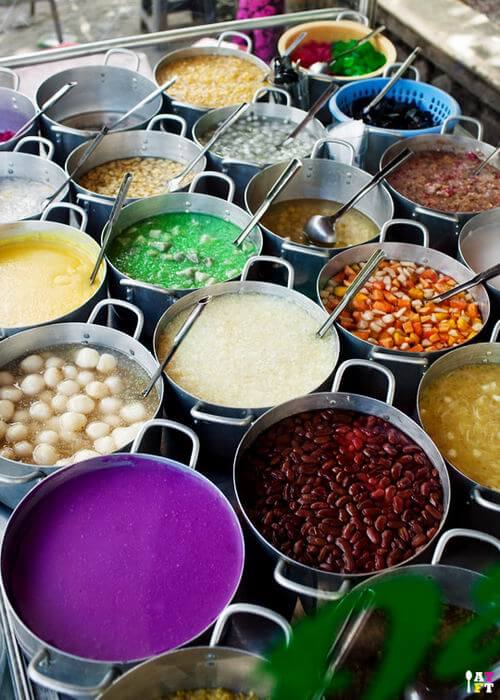 5. Bap Xao (Corn Fried Dried Shrimp):
Price: 5.000VND to 20.000VND (S$0.30 cents to S$1)
Snacks are often sold on a moving trolley along the roadside. The aroma of fried corn mixed with butter and hot onions is so alluring that make people passing by in their cars make it a point to stop to buy a box. Each yellow corn is fried in butter together with shrimp and salt, making it unforgettable delight.
Written By: PHAN CAO QUYNH HUONG