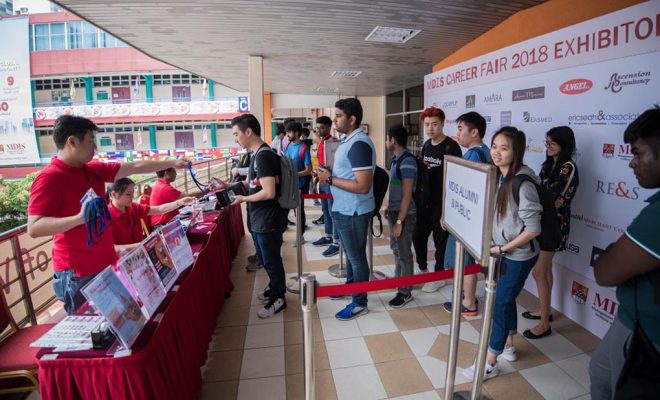 Taking it offline – MDIS Career Assistance Unit (CAU) did something different this year. Held at MDIS SAMTAS Hall on 1 August (Wednesday), from 11am – 4pm, CAU put together an on-campus career fair instead of a virtual one. A first after three years.
The tagline this year was "Creating Infinite Possibilities for Success".
The career fair aimed to connect potential employers with suitable candidates for career opportunities. The fair was open to both current MDIS students as well as alumni, and also acted as a platform where they could network. With some 42 exhibitors from various industries, including names like Uniqlo, Rotary Engineering, Millennium Hotels & Resorts, Dentsu Aegis, Singapore Press Holdings and many more, there was bound to be something for everyone. Close to 500 participants turned up for the career fair, and it was an exciting afternoon of engaging chatter and interaction between the participants and potential employers.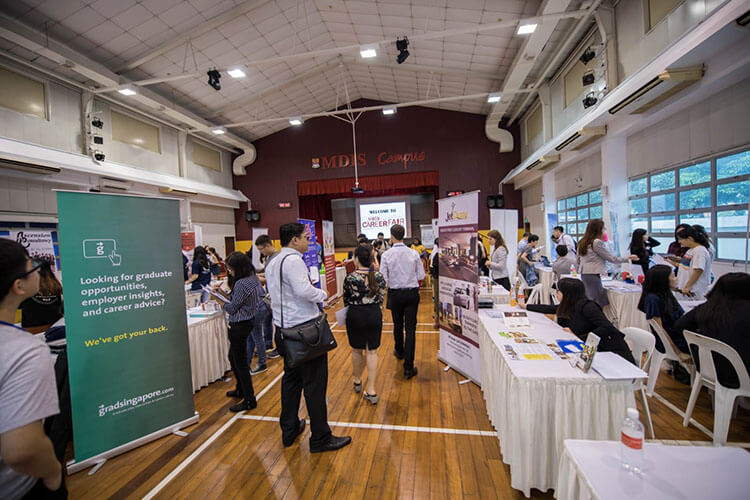 In conjunction with the fair, we also invited three industry speakers to provide career development talks for job seekers. We had renowned hair stylist and co-founder of Salon Vim, Gary Chew, to conduct a workshop and share hair styling tips for different types of interviews. We also had the honour of inviting the Deputy Director of Young NTUC, Chong Xianming, to speak about pitching yourself for career success. He shared tips on building your personal brand and how to go about 'selling' yourself to potential employers. Lastly, Senior Recruitment Consultant of SThree, Koh Jing How, spoke on how to be the most sought after candidate in the job market. It was an interactive session where he shared personal tips on how you can stand out from your competition when applying for a job.
Marina Mandarin, which participated as one of the exhibitors, commented that the fair was well organised and had a great variety of participants. GTI Asia also added that the students whom they interacted with were proactive and asked many salient questions. Students who went to the fair shared that the fair was an exciting mix of different industries, showcasing varying job scopes and vacancies for students from various faculties. There was so much to see! Exhibitors were also friendly and ready to address any questions the students might have, be it about the industry or even career advice.
The MDIS Career Fair continues to serve as an important platform for students and employers to mingle and engage in meaningful discussion on career opportunities. Look out for the next career fair in 2019!