On 28 March 2018, students from the School of Media and Communications visited MediaCorp. MediaCorp is a media conglomerate based in Singapore that was established in 1930s. Back then, it was founded as the British Malaya Broadcasting Corporation.
Students were given a tour of some of MediaCorp's facilities. They then met Keith Tan, Senior Creative Director for Creative Services, who supervises one of the creative teams. He is well-known for writing and producing various radio, television, print and digital advertisements. He shared some of his experiences and knowledge about working in the media industry over 14 years. Keith also demonstrated how to create good radio advertisements.
One of the facilities that students had the opportunity to see was the media studio where live shows are broadcasted. Students saw a set for an upcoming variety show that would be aired later this year. Also included in the tour: what goes on behind cameras, how sets are created, and how studio lightings are configured prior to recording/broadcast.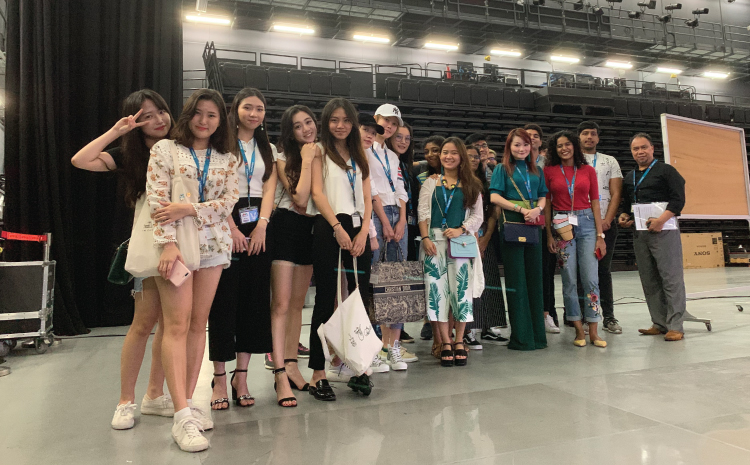 Additionally, our students had a lucky encounter chancing upon popular YouTubers Shafie Aziz and Hafiz Aziz from Urban Xtreme Monkeys, better known as UXM! UXM has close to 50,000 followers and over 8,778,836 views for their 102 videos over the last decade. They spontaneously joined the tour to share their experiences with students and advised some to not give up and follow their dreams. A Q&A session followed after.
One of the students Ren Ki, an aspiring YouTuber, asked the duo if they could advise her on starting her channel to which they replied, "Be mindful that you're communicating with human beings, although you can't see them", a reminder of how communications is important in any field of work. Upon returning to campus, many students commented that they enjoyed themselves. Here's what some of them had to say:
"It was a very nice experience, especially for international students who have not been to MediaCorp before." – Ren Ki, Batam, Indonesia
"I have seen production and TV studios back home so I was curious to see how the studios and offices are like in Singapore. So, yeah, just looking at MediaCorp's studios was enough to send chills down my spine – and I'm not dramatising. I literally had chills! They were so beautiful and SO MUCH bigger than I thought they would be." – Payas, Bangalore, India
Overall, the field trip was a successful learning journey. Having the opportunity to go on field trips is rare, especially at the tertiary level. Such trips have major educational elements that give students a chance to experience hands-on learning related to their course of study, in helping them to prepare for life after graduation. Students had the added benefit of bonding with their classmates and lecturers too!