High Demand for Healthcare Professionals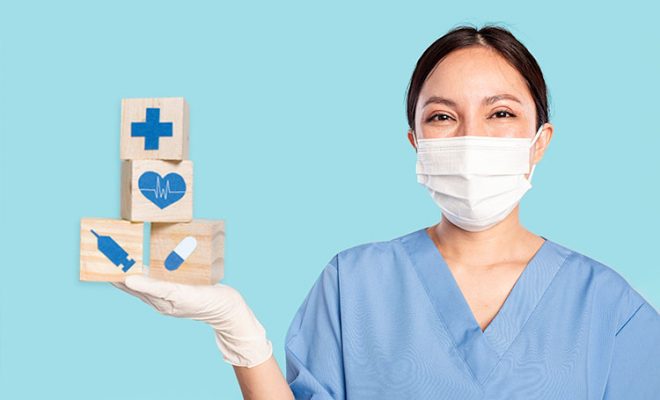 What is Healthcare Management?
Healthcare Management involves the planning, operations, and mobilisation of resources within healthcare systems, spanning diverse healthcare organisations, such as public hospitals, private hospitals, private clinics, polyclinics, nursing homes. Roles and responsibilities that fall under healthcare management include administration, scheduling of events and appointments, coordination with different departments to manage tasks including supervision of available healthcare grants, treatment options, and organising public health awareness programmes, amongst others.

What Are the Various Disciplines in the Healthcare Industry?
There are various professions across the healthcare industry, and these can be broadly categorised along the disciplines of Healthcare Administration, Nursing, Allied Health, Health Information Management, Medicine and Surgery, as well as Public Health. Amongst which, we focus our sharing on the following key disciplines:
Health Services Management is another name for Healthcare Administration, referring to the effective management and organisation of healthcare systems and services. Professionals in this field handle tasks related to insurance, financing, and operational efficiency to support healthcare providers.
This field emerged in the wake of growing healthcare needs transformed the administrative duties of nurses to dedicated services. Specialisation has increased the efficiency of health services management, and enabled limited healthcare facilities to tackle the demands of an increasing patient population.
Health Information Management (HIM): Professionals in this discipline manage health records, coding, data collection, privacy, and security of healthcare information, as well as analyse and utilise health data for decision-making as well as research purposes. They are critical talents trained to check, collate, and manage health records, facilitate and coordinate clinical appointments/ hospital visits visitations. They are also trained to advise or assist on medical subsidies, insurance claims and bill coverage matters, all-in-all, providing a seamless patient experience.
Public Health: It involves the study, research and organised efforts in promotion and education of physical, psychological, and social well-being amongst different sectors of the community; hosting talks/ public seminars on health prevention, food nutrition, policy development, environmental health and emergency preparedness, as well as informing them on the latest health news locally and globally.
There are also environmental challenges to deal with. For example, in Singapore, whenever there are changes to policies, healthcare professionals would need to work with non-profit and voluntary channels to more efficiently reach out and convey announcements and messages to the less tech-savvy/ non-educated segments of the population so that they would be aware of the benefits made available to them.
What Skills and Competencies Do I Need to Enter the Industry?
Skills Framework for Healthcare: The Skills Framework serves as a guide to help healthcare professionals identify relevant sectors, skills, and competencies required in each field. Individuals, employers as well as training providers may discuss and review an individual's interests and advise them on their career progression.
Within the discipline of Operations, a Patient Service Executive is responsible for overseeing frontline services and department operations in private or public hospitals, community care or primary care settings. In addition to leading and managing the team within his/her scope of work, the individual may be involved in providing supervision, in addition to managing different counters such as patient registration, billing and payment as well as patient care. Hence, the Skills Framework facilitates identification of competencies needed for optimal job performance.

How to Get Started in the Healthcare Industry
By year 2030, one in five Singaporeans will be aged 65 years and above; approximately one million in the community, of whom, there would be about 100,000 who stay alone, requiring health, social, and community assistance. With an ageing population in Singapore, the healthcare industry is poised to create a career boom in the coming years. Here are 3 tips to get started in the healthcare industry.
Willingness to learn and positive attitude
Anyone can excel in the profession for as long as they are willing to learn. Be selfless in sharing your experience. Share how you managed or facilitated a work structure change. Adapt to new tools and contribute to the design of digitised and automated solutions to enhance efficiency and increase productivity. Step up to be that change maker of whichever industry you join.
Your first job in healthcare could see you start off at the junior level, serving as an administrative assistant. But keep an open mind set, adjust your expectations, and humbly learn from your peers; you could be promoted as you gain relevant industry experience. Face up to different challenges and turn your challenges to opportunities, make valuable contributions and work your way through supervisory to management roles.
We are never too old to learn. Be ready to head back to school as healthcare jobs require specialised skills and knowledge. MDIS offers a myriad of opportunities to broaden your knowledge. Consider upgrading yourself with relevant knowledge from the MDIS School of Health and Nursing (SHN). Check out our programmes available from Healthcare Management to Science Nursing. Choose the path that caters to your interest.
What Are the Available Programmes in MDIS?
The MDIS School of Health and Nursing (SHN) focuses on healthcare professionals who are pursuing post-registration courses in the field. The School of Health and Nursing aims to provide students with the most up-to-date healthcare knowledge and skillsets so that graduates could practice their profession in Singapore at the highest levels of competency. In collaboration with UK universities, the School offers Diploma, Advanced Diploma, Bachelor Degrees and Masters programmes. Check our website for more information.
Upgrade your Skills And Knowledge. Study at the MDIS School of Health and Nursing (SHN)
The MDIS School of Health and Nursing (SHN) provides ongoing healthcare education. In order to serve society, it is our goal to prepare future professionals for the health sector through our healthcare programmes. Our students learn how to deal with real-life challenges and are ready to advance in their healthcare careers with our on-campus Nursing Practicum Lab. We offer job-ready degree programs, including full-time and part-time top-up degrees, in collaboration with our well-known UK university partners.

Choose a healthcare course that best fits your interest, based on your career aspirations. Connect with former students who have taken similar programmes to gather their learning experience at MDIS or reach out to us for more information. Send us an email at etc@mdis.edu.sg or give us a call at +65 6247 9111. Our dedicated sales representative will be glad to assist you.