You will be required to complete the Disembarkation/Embarkation Card which will be given to you on the plane. The Disembarkation/Embarkation Card must be completed in a neat and legible manner.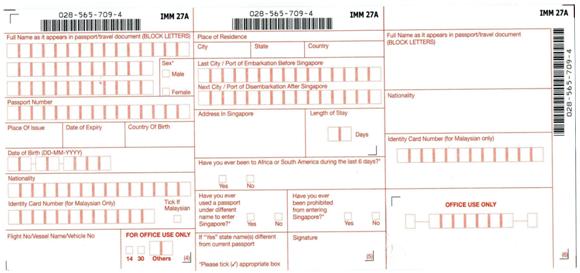 At the immigration counter, you must present the completed D/E card together with your passport and the copy of the In-Principal Approval Letter (IPA) to the Immigration & Checkpoints Authority officer.
Upon the grant of immigration clearance, the Disembarkation portion will be retained by the officer. The Embarkation portion and the IPA Letter will be returned to you. An endorsement indicating the period that the visitor is allowed to enter and stay in Singapore is stamped on both portions of the D/E Card as well as on the passport.
Change some local currency at the currency exchange counters at Changi Airport if necessary. Thereafter, you can also change money with any "Licensed Money Changers" at shopping malls, or at any bank.
Students who request for the Airport Pick Up Service will be met by the Hostel representative at the Changi Airport to be taken to the hostel.
Alternatively, taxis are readily available at Changi Airport. The airport taxi meters in Singapore start at a basic fare of $2.80 and there could be some surcharges on top of your fare including airport surcharge (S$3 weekdays, S$5 weekends) and midnight-6am surcharge (50% of the metered fare) or peak hour surcharge (Mon to Fri 7.00 am to 9.30am, Mon to Sat 5.00pm to 8.00pm). There could also be the Electronic Road Pricing charges incurred during trip and for drop-off before designated ERP cordoned areas.
Getting to MDIS
| | |
| --- | --- |
| ADDRESS | 501 Stirling Road, Singapore 148951 |
| CONTACT | 62788 000 |
By MRT – nearest is Queenstown MRT station
By Bus – 51,93,100,111,145,147,153,196,198,855,961,961C,970
By Taxi
Get a prepaid SIM card to keep in touch with your parents. Using a prepaid card frees you up from any monthly bills or subscription contract with a mobile phone company. The prepaid SIM cards in Singapore come in various denominations ranging from S$18 to S$100. There are 3 mobile phone service providers that offer prepaid phone service in Singapore – SingTel, MobileOne (M1) and Starhub.
Prepaid SIM cards in Singapore for any of the three phone companies can be purchased at the following locations:
Retail outlets of SingTel, Starhub, and M1
7-eleven stores
Cheers Convenience Stores
Singapore Post
Money Changers (Airport)
You will be required to produce your passport at the time of buying the prepaid mobile card. Once registered, the card is ready for use immediately.
Prepaid SIM Card balance in Singapore is normally valid for 6 months which means any unused balance will expire after 6 months.
Open a bank account
Once you have your Student Pass, you can open a bank account. Any bank should be fine, but check the minimum maintaining balance and watch out for bank fees, so you don't get charged unnecessarily.
To open the account, you need to bring along the following:
Original passport
Student pass
Minimum initial deposit of S$500 is required.
Law and Order in Singapore
Smoking
Smoking is not permitted in all public indoor places and most outdoor places. Those who wish to smoke may do so at smoking zones or boxes often denoted by a signboard followed by a yellow box drawn on the floor. In addition, smoking is not allowed at all entertainment nightspots unless within approved smoking zones. Offenders can be fined up to SGD$1000 and the throwing of cigarette butts on the floor will carry a fine of $200.
Chewing GumsChewing gums is not allowed to be brought into Singapore or to be consumed locally as it is banned unless the gum serves medical purpose such as dental-health gums and nicotine gums which help people to quit smoking. Offenders who are caught bringing chewing gum will be fined SGD$500 – SGD$1000.
Spitting and littering
Spitting and littering is an offence and carries a fine of SGD$200.
Drug Abuse and Trafficking
Drug abuse is viewed seriously in Singapore. Illicit trafficking of narcotic drugs and psychotropic substances is strictly prohibited. Offenders will be sentenced to a long jail term or even death if caught possessing more than 15g of heroin.