Singapore is located approximately 137 kilometres north of the equator. It comprises the main island of Singapore and some 63 offshore islands. Singapore is eight hours ahead of Greenwich Mean Time.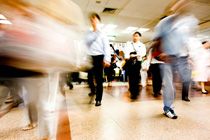 Singapore's population stands at about five million people, with English as the main language of instruction, and a mother tongue for each major ethnicity. One of the distinctly Singaporean things you'll notice on our island is a ubiquitous collage of cultures. Coming together as a society and living in harmony, there are found major races – namely the Chinese (majority), Malay, Indian and Eurasian. Each community offers a different perspective of life in Singapore in terms of culture, religion, food and language.
Singapore offers all the technological excellence of the West. It is less expensive to study in Singapore than in most other major cities of the West. Strategically located, Singapore is poised to grow tremendously in the new millennium.
Students who are part of this dynamic growth process would have opportunities in the various Financial, Information Technology and Manufacturing sectors.
With political stability and a conducive study environment, Singapore is an ideal place to gain an internationally recognised educational qualification.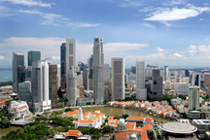 Singapore's climate is warm and humid, with only slight variations between the average maximum of 31 degrees Celcius and minimum of 23 degrees Celcius. This makes it ideal for those who enjoy sunbathing, swimming, sailing and other water sports. But for those who do not enjoy the tropical climate, Singapore is sheltered from the worst effects of the sun with air-conditioning in almost all of its shops, hotels, office buildings and restaurants.
Rain falls throughout the year, with more consistent rain coming during the monsoon season from November to January. Showers are usually sudden and heavy, but also brief and refreshing.
The Singapore Mass Rapid Transit (SMRT) is a modern, air-conditioned passenger train service with stations all over the city. There are two main lines - one from Marina Bay to Jurong East via Woodlands and the other from Changi Airport to Boon Lay. You can obtain a copy of A Quick Guide to MRT Travel from the Station Control Rooms in all MRT stations. For more information on both the MRT and bus services, you can refer to the TransitLink Guide, which is available at S$1.50 in most MRT stations and bus interchanges as well as at major bookstores.
From the city centre, the MRT ride to the Changi Airport station is only 27 minutes. The train service from the Changi Airport station operates at an average frequency of 12 minutes and its service hours are as follows:
Changi Airport station to City Hall station
| | |
| --- | --- |
| First train | 5:31am (Mon to Sat), 5:59am (Sun and public holidays) |
| Last train | 11:31pm (daily) |
City Hall station to Changi Airport station
| | |
| --- | --- |
| First train | 6:01am (Mon to Sat), 6:29am (Sun and public holidays) |
| Last train | 12:11am (daily) |
The fare for a single trip from Changi Airport station to City Hall station is S$1.75. For the convenience of travellers, trains serving the Changi Airport station provide luggage racks and free space in every carriage.
The Rail Travel Information System (RATIS) disseminates real-time information on train arrival times and destinations. The information is displayed on plasma screens in the platform area and on LED panels found on the concourse. Do read the train destinations from the RATIS or listen to in-train announcements to ensure that you are travelling on the right train to your destination.
If you are on board a train going towards Pasir Ris station, you will need to alight at Tanah Merah interchange station and board the train going towards Changi Airport station.
Frequency
Trains operate at intervals of between two and a half minutes and eight minutes from 5:30am until 12:30am daily. Check at respective MRT stations for precise train arrival/departure timings.
Fares
Travelling on the MRT is cheap, with rides ranging from S$0.83 to a maximum of S$1.95. Instead of using cash, you may choose to pay your MRT and bus fares with a stored value Ez-link Card. The Card can be bought or revalued from any TransitLink Ticket Sales Office located in most MRT stations and bus interchanges. Each adult Card is sold with a minimum value of S$10 plus a deposit fee of S$5.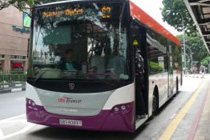 You can easily get from one point to another by bus with an ez-link Card, which can also be used on the Mass Rapid Transit (MRT). SBS bus 36 runs between Orchard Road and Changi Airport. The public bus stations are located in Terminal 1 at Basement 2, and in Terminal 2 at Basement Level. Details of bus routes and fares are displayed at bus stations.
Fares
S$0.80 to S$2.00 - non air-conditioned buses.
S$0.80 to S$1.70 - air-conditioned buses.
Exact fare is required. Check with the bus driver on the appropriate fare for your destination or visit the TransitLink website for the fare structure. Alternatively, call the TransitLink hotline at 1800-767 4333 (toll-free in Singapore only, operating hours are from Monday to Friday, 8am to 6pm and Saturday, 8am to 1pm) for assistance.
Operating hours
From 6am to 12 midnight. Check at respective bus interchanges or bus stops for precise bus arrival/departure timings.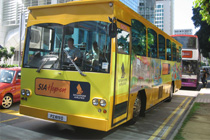 Hop onto this tourist bus service and explore the shopping, cultural and entertainment areas within the city. The SIA Hop-on covers Orchard Road, Bugis Junction, Suntec City, the Civic District, Boat Quay, Chinatown, Little India and the Singapore Botanic Gardens.
Ticket prices
Free for Singapore Stopover Holiday (With Attractions) and selected SIA Holidays customers; S$19.50 (adult) / S$14.50 (child) for SQ and MI passengers; S$39 (adult) / S$29 (child) for all other passengers.
Tickets can be purchased from most hotels, SIA ticket offices in the city and from the bus drivers directly.
| | |
| --- | --- |
| Operating hours | Daily, from 9am to 6pm at 30-minute intervals. |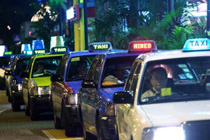 Taxis are available at the taxi stands at the Arrival levels of each Terminal. The airport taxi meters in Singapore start at a basic fare of $3.20 and there could be some surcharges on top of your fare including airport surcharge (S$3 weekdays, S$5 weekends) and midnight- 6am surcharge (50% of the metered fare) or peak hour surcharge (Mon to Fri 7.00 am to 9.30am, Mon to Sat 5.00pm to 8.00pm).
Fares are metered and the journey to the city is estimated to cost between $18.00 and $38.00 and takes approximately 30 minutes.
There could also be the Electronic Road Pricing charges incurred during trip and for drop-off before designated ERP cordoned areas.
For more information about the taxi rates, please refer to http://www.taxisingapore.com/taxi-fare
Taxis can be hailed on the street or booked through your hotel. For advanced booking, please contact one of the following taxi operators:
Comfort or Citycab Tel: (65) 6552 1111
Premier Taxis Tel: (65) 6363 6888
SMRT Tel: (65) 6555 8888
SMART Tel: (65) 6485 7777
Transcab Tel: (65) 6555 3333