01 Aug 2021 8:00am - 31 Aug 2021 6:00pm
What's Happening at Resource Hub in August?Enrichment
On the ninth of August each year, Singaporeans look forward to celebrating National Day. If you are new to Singapore, read on to find out the history of Singapore's independence and how the Nation's birthday is celebrated. If you are local, please help share the National Day spirit!
Gaining Independence
On 16 September 1963, Singapore became part of Malaysia following a merger with Malaya, Sabah and Sarawak. However, there were disputes that occurred between the state government of Singapore and the federal government on several political issues making it a very uneasy union and hence, a decision was made by the Malaysian Prime Minister, Tunku Abdul Rahman to expel Singapore from the federation. On 9 August 1965, Singapore gained her independence abruptly and had to become self-sufficient while facing problems such as housing shortages and mass unemployment.
The First National Day Parade
The first National Day Parade (NDP) was held at The Padang on 9 August 1966 at 9am to mark her first year as an independent nation. Mr Yusof Bin Ishak (Singapore's first President) and Mr Lee Kuan Yew (Singapore's first Prime Minister) were amongst those seated with members of the government at the grandstand. The parade began with six military contingents marching past City Hall and then into the streets accompanied by three military bands. A mass lion and dragon dance performance from troupes nationwide ended the parade. National Day Parade has been held annually ever since. Over the years, the National Day Parades were held in several locations namely, Padang, National Stadium and Marina Bay Floating Platform. In 1973, the parade started from late afternoon to early evening to promote the parade with better attendance. Parades today, held from dusk to night, end in the climax of fireworks displays which have become a prominent feature in every parade. Another prominent feature is the medley of National Day songs along with reciting the National pledge and singing Singapore's National anthem, "Majulah Singapura".
National Day Parade (NDP) Theme Songs
NDP Theme songs were first introduced in 1984, starting with "Stand Up for Singapore", and again in the 1985 Parade; "Count on Me Singapore" which was performed by Clement Chow at the 1986 Parade. Other notable songs include "We are Singapore" which were sung from 1987 to 1988 followed by "One People, One Nation, One Singapore" in the 1990 Parade. Theme songs were not prominent in the parades of the 1990s until 1998 when "Home", a song composed by Dick Lee and sung by Kit Chan. In fact, many local songbirds that have made it big in the regional entertainment industry, such as Kaira Gong, Kit Chan, Corrine May, Stefanie Sun and Tanya Chua have been invited back home to perform various National Day theme songs. Taufik Batisah, the winner of Singapore Idol 2004, became a prominent choice to lead the nation in singing the NDP 2005's theme song "Reach Out for the Skies", alongside singer-actress Rui En. The theme song tradition returned once more in 2020, with "Everything I Am" sung by Nathan Hartono and for this year's upcoming National Day, an original theme song "The Road Ahead", sung by Linying, Sezairi, Shye-Anne Brown, and Shabir will be featured.
NDP 2021
Due to the rise in number of COVID-19 cases, Return to Phase 2 Heightened Alert was implemented just weeks before the Nation's birthday and the government has now postponed the celebrations to 21 August. While we wait in anticipation, here are some photos of the past years' NDP for your viewing pleasure.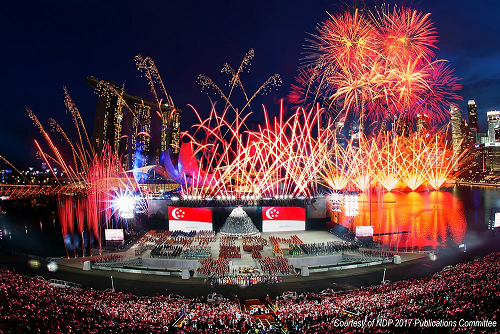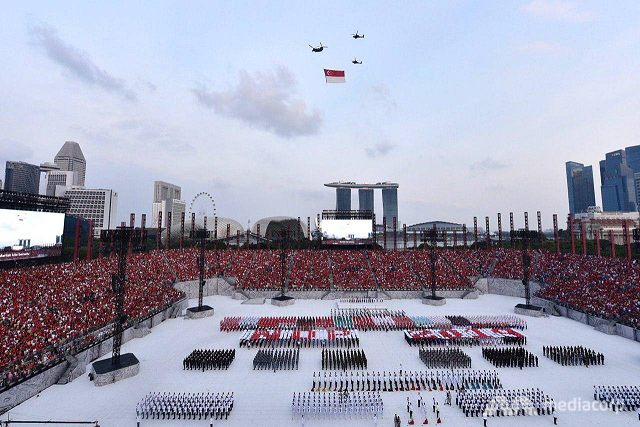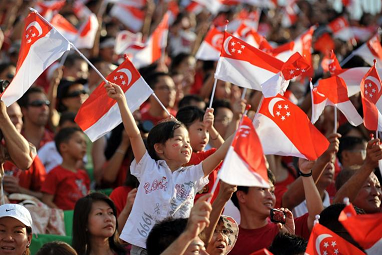 QR Code for Singapore's National Anthem (Various Languages):
Here's a YouTube link for this year's NDP theme song: https://www.youtube.com/watch?v=II_5jBaYmGQ