23 Feb 2018
International students from MDIS up the Ante at Chingay 2018Press Releases
Singapore, 23 February 2018 – Featuring 60 international students across 10 countries; costumes made with holographic fabric; and a life-sized 'flying car' model – this year's contingent of students from the Management Development Management Development Institute of Singapore (MDIS) is set to wow the crowd at the Chingay 2018 parade.
For the first time since participating in Chingay four years ago, the MDIS contingent built a life-sized mobile structure which was conceptualised, designed, and fabricated entirely in-house using new industry-standard 3D printers at the MDIS School of Engineering. Measuring 3m in width and length, and 1.7m in height; the life-sized 'flying car' equipped with rotating propellers along its 'wings' reflects the students' vision on the future of mobility. It also symbolises the "Future of Education", encapsulating new innovations in technology (3D printing) and emerging disciplines (precision engineering).
This year's MDIS contingent yet again feature students from countries such as Japan, Russia, Myanmar, Indonesia, South Korea, and China. The diverse contingent celebrates the joy of a multicultural student life in MDIS and demonstrates the unity and camaraderie amongst students from different cultures.
Ms Jesline Wong, Senior Director of Communications said: "Having been invited to participate in the Chingay parade for four consecutive years, we are always looking at ways to outdo ourselves from the previous years while giving our students a relevant platform to put the skills acquired at MDIS to the test."
First-of-its-Kind Life-sized Mobile Structure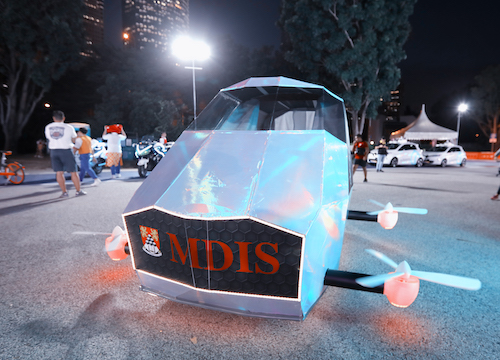 A reflection of the 'Future of Education', the 'flying car' was a key feature in this year's participation by the institute.
Taking over 100 man-hours to conceptualise and fabricate, the flying car was a joint project spearheaded by a team of nine students from the MDIS School of Engineering and seven staff members. 3D printing was used to create original parts unique to the structure.
Mr Ra Woonjae, a first-year electrical engineering student who played a key role in the project, said: "Through this project, we not only had the opportunity to put our engineering skills to the test and try out the new 3D printing technologies available at the school but also the opportunity to work with students across departments. Additionally, I gained essential soft skills such as teamwork and time management, which will definitely make me a better engineer in the future."
A Colourful, Multicultural Contingent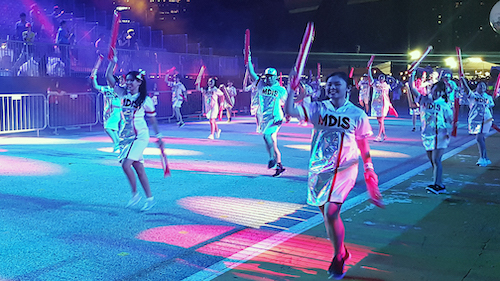 Clad in a sporty-looking costumes incorporating holographic fabric, MDIS students will put up a hip-hop-inspired dance performance to the pounding beat of Gloria Estefan's hit single, Congo. The contingent will hand out 'clappers' to the audience to encourage them to clap and dance along.
"The MDIS contingent of international and local students is always excited to initiate, prepare for, and introduce new elements to the Chingay parade. Such events allow our students to shine; to truly show their talent and creativity, from leading the conceptualisation of the 'flying car' to choreographing and teaching the contingent to dance. We are certainly proud of how they develop through their course of study at MDIS and of all their achievements," concluded Ms Wong.