14 Jan 2021
How changing course uncovered her callingLatest News
"It was the stories of people that I wanted to put into words." said Ms Nicole Pang.
Though her path started with a diploma in science, she discovered a passion for storytelling and writing. Beyond 'O' Levels, Ms Pang decided to take a leap of faith to pursue her dreams and enrolled in a 16-month Preparatory Course for Singapore-Cambridge General Certificate of Education (Advanced Level) Programme at MDIS.
She looked forward to the classes as she felt more engaged and inspired by the teachers. Besides learning what the course had to offer, her teachers taught life skills such as interpersonal relationship skills that would become a guide to her for the journey ahead.
Read more on Ms Nicole Pang's story here: https://sweetspot.straitstimes.com/education/how-changing-course-uncovered-her-calling/
#mdis #mdissg #BeyondOLevels #pursueyourdreams #levelupwithMDIS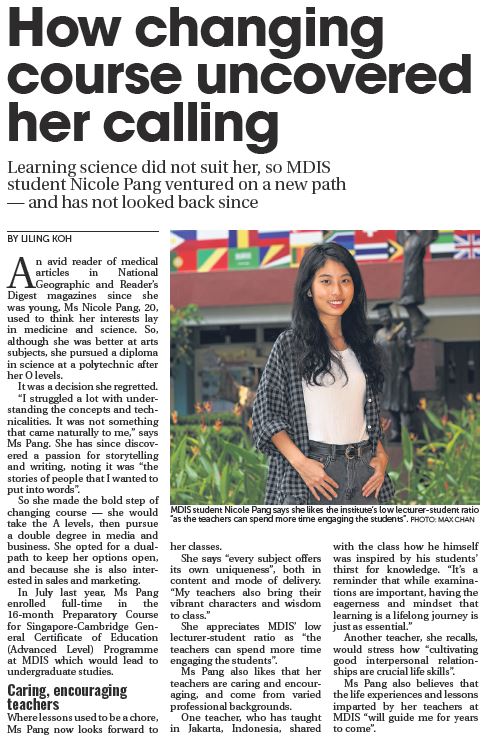 The Straits Times, 12 Jan 2021 © Singapore Press Holdings Limited. Permission required for reproduction.