24 Feb 2018
Getting AheadMDIS in the News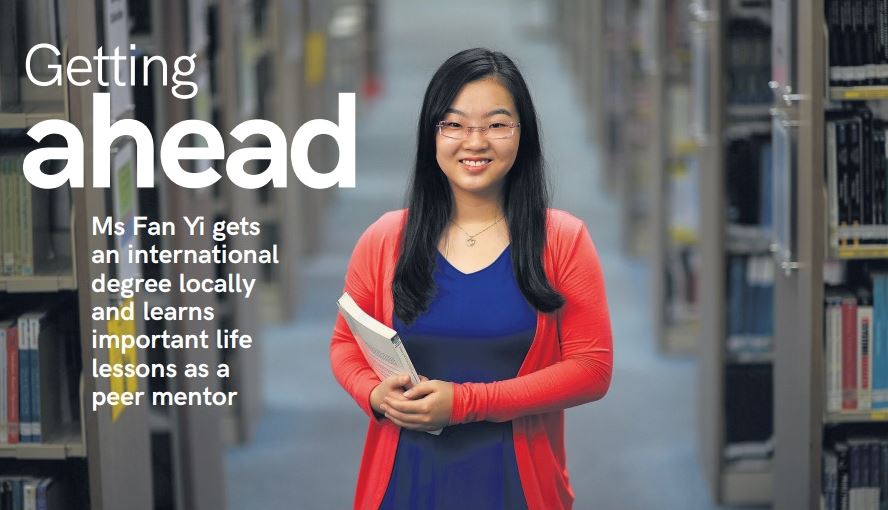 AFTER Ms Fan Yi, 20, completed her A levels, she wanted an overseas education.
But the Singapore permanent resident was aware of the additional costs it would incur. As she was an only child, her parents were also reluctant to let her study overseas alone.
That was when she found a win-win solution.
At the Management Development Institute of Singapore (MDIS), she could obtain qualifications from a university in the United Kingdom without the costs of an overseas education.
Growing together
Ms Fan enrolled in MDIS in November 2016, and is now pursuing a Bachelor of Science (Hons) Business Studies and Finance, awarded by Bangor University in Wales, the United Kingdom. She graduates in October.
She says: "The professors at MDIS share their working experience and wisdom in their respective disciplines with the students.
"I met people from all over the world, something I had been looking for in my university education. I want to experience new things and broaden my mindset before I enter the workforce."
In her second semester, Ms Fan was chosen by her lecturer to be a peer mentor to her classmates. She says: "It was a very fruitful experience as my classmates felt more comfortable approaching a fellow classmate than going to the lecturer. We worked and learnt together. We formed a chat group and pooled our knowledge to help one another.
Rewarding journey
Ms Fan feels that her lecturers have had the biggest impact on her.
She says: "They are extremely dedicated, often going beyond the call of duty to help struggling students. They have often stayed back to inspire and correct students, allowing us to consult them during assignment periods.
"Growing up in Singapore, I realised that I had a myopic view of the world around me. But after coming to MDIS and meeting peers from all walks of life, I have become more empathetic and compassionate."
Ms Fan aims to pursue a master's degree after graduation, and be an analyst or consultant. To achieve her career goals, she taps the Career Assistance Unit in MDIS.
She says: "It is a wonderful platform for my career planning, with portals where I can upload my resumé and get in contact with potential employers.
"Its career fairs allow me to interact with representatives from companies to have a better understanding of employers' needs."
She recommends MDIS as its degrees are the same as those offered at the home universities, making it almost equivalent to an overseas education. "Its teachers are just as qualified because they go to campuses around the world to teach. There is no room for bias in the MDIS system," says Ms Fan.
Source:The Straits Times, 24 February 2018 © Singapore Press Holdings Limited. Reproduced with permission. Click here to view PDF.