15 Jan 2018
Boosting His People SkillsMDIS in the News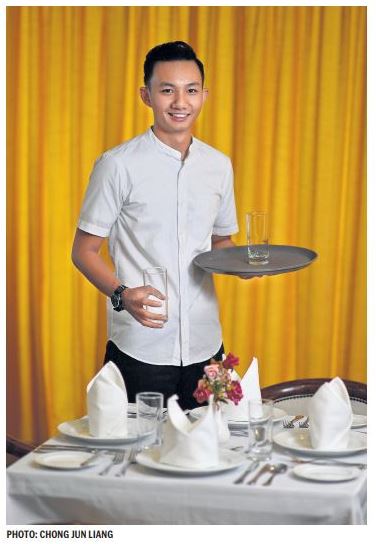 MR MOHAMMAD Faridzwan Samsudin, 21 (top), aspires to fly the skies with Singapore Airlines.
To prepare for a career as a cabin crew after his O levels, he enrolled in the International Foundation Diploma in Travel, Tourism and Hospitality Management, offered by Management Development Institute of Singapore (MDIS), and progressed to the Higher Diploma in Tourism, Hospitality and Event Management last year.
The full-time 16-month programme aims to prepare graduates for future management roles and facilitate their understanding of the core areas of management as well as acquire knowledge to handle the dynamic travel, tourism and hospitality environment.
The course comprises 10 months of study and six months of internship with a hands-on practicum at MDIS' on-campus Hospitality Training Centre, known as Tropical Breeze.
Students can complete the internship at any of MDIS' industry partners, which include leading hotels, resorts, and local attractions in Singapore.
Mr Faridzwan says: "MDIS has a facility to train students in a hotel setting. There is a front desk, well-equipped bar counter facilities including for coffee-making, and a mock-up guest room with table setting and room setting so that we can prepare ourselves for the internship programme."
The 1,400 sq ft Tropical Breeze campus offers students the opportunity to learn and practise front office, service and hospitality operations with the latest Opera Fidelio Property Management System and a mock-up guest room.
Mr Faridzwan, who will graduate in October this year, says transitioning from secondary school to tertiary education had its challenges. When he had to retake a module, he was demoralized at first but he cleared the retest with support from his friends.
Juggling his studies with part-time work as a rider for food delivery service Deliveroo, he plans to enroll in the Bachelor of Science (Hons) International Tourism and Hospitality Management (Top-up) awarded by University of Sunderland, UK, after completing his higher diploma programme.
Source: The New Paper, 15 January 2018 © Singapore Press Holdings Limited. Reproduced with permission. Click here to view PDF.