Top 10 Jobs for Biomedical Science Degree Graduates in SG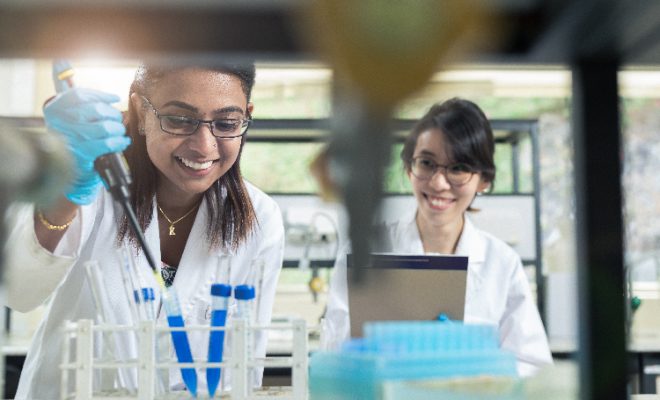 Singapore's biomedical sciences industry is a growing industry. It is known as the leading location for companies in the biomedical sciences industry to innovate and produce new products, making it the fourth most important pillar of the manufacturing economy.
In addition to the vibrant pool of talents, the government is also looking to boost the sustainability of the industry as part of its smart nation drive by creating and enhancing Biomedical Science jobs, upskilling the talent pool and raising productivity.
If you are now considering a future career in the booming biomedical sciences industry, read on to find out what are the top 10 jobs you can pursue as a biomedical science degree graduate in Singapore.
What is Biomedical Science?
It's a branch of Science that is concerned with theoretical and practical human diseases and health. The areas of study in this field equip undergraduates with a good foundation in science with an exposure to healthcare issues.
What is a Biological Science Degree?
A Biomedical Science Degree qualifies students for employment by providing them with the knowledge and skills needed in the Life Science sector.
Why study Biomedical Science Degree?
-To be well-versed in the fundamental topics that support the Biomedical Science discipline – human anatomy and physiology, cell biology, immunology, molecular genetics, microbiology, biochemistry and disease biology.
-To acquire practical laboratory skills for the job
Why Pursue Biomedical Science in Singapore
The following are reasons why you should earn a biomedical science degree in Singapore:
-A Stable Singapore government.
-Excellent infrastructure and conducive environment for learning
-Singapore as a leading location for world-class manufacturing pharmaceutical companies such as Pfizer, Novartis, Sanofi, AbbVie, and Amgen, among others.
-Qualified Life Sciences Academia.
Top Jobs for Biomedical Science Degree Graduates
Medical Laboratory Technologists and Scientists
With pandemics like Covid-19, there is a high demand for professionals to conduct diagnostic tests and process patient samples.
Medical Research Scientists
With the rise of chronic & lifestyle diseases, cancer and induced diseases, there is a deficit in personnel to support the study and research of various diseases.
Bioinformatics Career
In this era of post-genomic and with the emergence of computing technology, bioinformatics is essential. Bioinformatics professionals are needed to manage and analyse biological data, which is critical in biomedical discoveries.
Genetic Counselling
Graduates in the biomedical science discipline can also look forward to a career as a genetic counselor. They will be involved in assessing individuals/families for a variety of inherited conditions and will support other healthcare providers, or individuals/families concerned.
Epidemiologist
Biomedical graduates in the epidemiology niche are crucial as they offer professional health investigations on patterns and causes of diseases that affect people. Besides, they seek to minimize risk and adverse health occurrences through community education, research, and health policy.
Bio-medical Engineers
Biomedical engineers combine medical knowledge with engineering principles to create and design equipment, software, computer systems, devices and devices to enhance healthcare service. These skills are highly demanded, especially in Singapore, where we have an ageing population.
Healthy Services Managers
The health sector needs managers to monitor activities and awareness programmes. For instance, lifestyle diseases require personnel to monitor, to supervise and implement programmes deemed to manage them and their effects.
Microbiologists
Microbiologists are on demand. Their profession entails researching and identifying viruses, fungi, bacteria and other microorganisms that can cause disease. Besides, they also study how these microorganisms are utilized in the food manufacturing plant or fermentation technologies applied in beer and wine production.
Jobs in Bio-Manufacturing
Biomedical graduates in Singapore will be equipped with the knowledge and skills to work in biotech companies. They take part in vaccines and medicines discovery and manufacturing. For example, Pfizer, a biotechnology firm from the US, has established a satellite branch in Singapore that recruits biotechnologists.
Teaching and Academia
Academic professionals from the biomedical discipline in tertiary colleges and universities are in high demand. They train the talent pool with knowledge and fundamental skills to perform well in the industry.
Admission Requirements for a Biomedical Science Degree
Basically, you are required to have a GCE "O" or "A" qualification in Biology and Chemistry to enroll in this UK Biomedical Science Honours degree. However, the MDIS International Foundation Diploma in Biomedical Sciences also facilitates students who lack relevant qualification to pursue a biomedical science degree.
United Kingdom Biomedical Science Degree at MDIS
It will take 3 years to complete the honours degree and will acquire comprehensive, specific medically-related modules. The modules include immunology, molecular biology, microbiology, anatomy and physiology and biochemistry genetics.
Human health and diseases are one of the main focus. The students acquire practical skills to help them understand concepts taught in class. The practical sessions will also enhance analytical and critical thinking skills. Students are also required to complete a Final Year Research Project that trains them in scientific research, logical thinking, time management and time management and teamwork. Besides the biomedical science degree, we also offer a UK honours degree biotechnology awarded by Northumbria University.
Summary
A Biomedical Science Degree from the life sciences school provides a ticket to a variety of fascinating jobs in the life sciences industry. The student is trained in the knowledge and fundamental skills to succeed in their future career. Now is an exciting moment to be educated in this field with the ever-changing world of new advancements in illnesses and outbreak control. One can make a real difference with their contribution.