MDIS Communication Students Learn Financial Literacy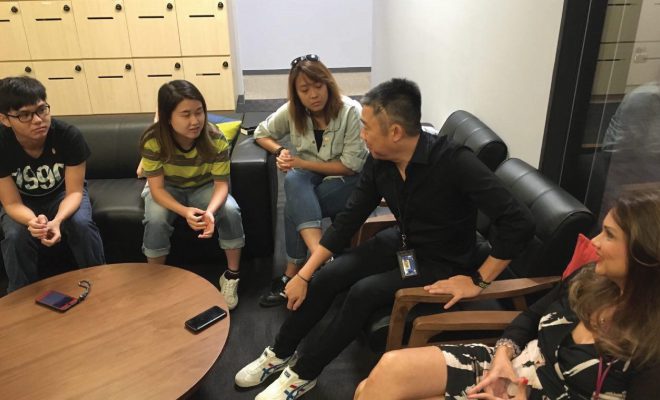 During a visit to Money FM 89.3 at the Singapore Press Holdings, media students learnt about financial literacy, while also learning how to promote such a heavy topic on the airwaves. These students of Teeside University's Bachelor of Arts (Hons) Broadcast Media Production (Top-up) got the chance to interact with renowned radio personalities Michelle Martin and Bernard Lim. They gained valuable insights from the two deejays' extensive experience – both pertaining to radio hosting and also financial literacy matters.
Lastly, on the significance of a dedicated financial radio station in Singapore, Money FM 89.3 serves an important auxiliary function in ensuring good climate of financial information in Singapore. During the sharing session, the students learnt that the overarching theme in financial literacy is self-sufficiency and financial management.
As Singaporeans become more affluent, many acquire higher disposable incomes. Many own credit cards. With the increase in credit card usage, there is a need to instil awareness of using advance money through credit.
While using credit cards may appear attractive with all the rebates and discounts that come with it, it is also important to assess our own financial situation. We need to understand the relationship between existing lifestyle and expenditure patterns and how it would impact our ability to "pay off" our lifestyle needs. Money FM 89.3, a dedicated radio station that works closely with the Business Times, aims to address these financial concerns as the country progresses economically.
Credit cards aside, investment is another hot topic especially amongst investors and business owners. Both radio personalities regaled their experiences on promoting this topic on-air and ensuring that it is useful not just for investors and business owners, but also digestible by even leisure listeners.
Further to that, students have also asked how financial news could be reported in a more interesting way.  Michelle Martin compared how listeners have become more educated and dynamic, while
It is not always fine and dandy, and mistakes can happen sometimes. Michelle Martin shared her personal experience of almost reporting the "zeros" wrongly on air. A single zero in a financial report of any kind makes a huge difference. For instance, investors might risk making wrong financial investment decisions, as a result. This serves as an important reminder for students to be more prudent during reporting, be it general or financial.
Factual reporting is important beyond the 4 walls of the radio conti as well. Through this sharing session with the Money FM presenters, the students learnt more about on-air presentation, financial reporting and also better understand the impact of incorrect reporting. As future professionals in Singapore communication industry, students need to be more analytical of every bit of information that they come across to ensure accuracy and relevance.