Learning as an Imaginative Fantasy of Humanity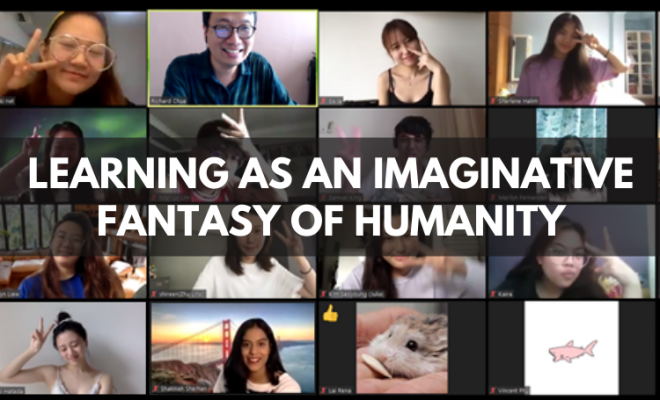 In his book, In The Shadow of Young Girls, Marcel Proust proposed, "If we are to make reality endurable, we must all nourish a fantasy or two." He encourages us to look at life with more courage and verve. During this time of Covid-19 pandemic, when all of us are teaching from home, I always think about my students. How are they coping? How are they feeling? More importantly, what are they imagining?
Imagination is important for any communication student. It is not just about thinking-out-of-the-box as there shouldn't be any boxes to begin with, but being self-aware of one's imaginations on topics, issues and arguments. Every society needs collective imaginations. Besides being constructions in the minds, they also shape our world-view and how people "look" around us. Obviously, I am not referring to physical looks but our image of them socially and emotionally.
Socially, we view everyone with coloured lenses. Our perception of others is predicated on experiences and memories we have accumulated since young. Values imparted to us from family and friends will also affect our perception of others. Understandably, we have only got our histories to tap on. Things that seem natural to us would definitely be suitable for others. We are naturally good natured people. So, it is just right for us to be nice to everybody.
Emotionally we are also very real. Sense of reality differs among people. What's real to me might not be so for you. How do we make sense of emotional reality? This is a tough question. If I am annoyed by someone or something, that's a very real feeling. Should I express it? Yes, it seems. However, I would suggest doing so gently with compassion. How do we go about doing so? Love yourself a little more. How do we go about loving ourselves? It is about being honest and admitting to things we have done to ourselves and to others.
Back to my initial question: What are my students imagining? I will never know. But there is one thing I am pretty sure about: They would stop imagining and feel bored after a while. The sense of getting and being bored is also an act of imagination. What's boredom, you might ask.
Boredom is a state where one needs to face his/her own emotional self. That's the time when we are most vulnerable and fragile. Old memories either nourish or haunt us, but most of the time, they remind us of unsettled business. These unsettled businesses need clarity. Once we have made sense of them with clarity, we would have settled them. Moving on would be a breeze. How do we make everything in front of us exciting? Have faith with our imaginations.
Here, I would like to call on Marcel Proust's wonderful quote again: "If we are to make reality endurable, we must all nourish a fantasy or two." Have faith in our imaginations and start fantasising.
I would like to offer my students a way or two with this. When encountering readings on my topics, imagine that you are providing wisdom to yourself and the world. Writers of the journal articles and books are working out challenging problems that lie in between love and hate; loyal and betrayal; desire and stability — just like the love relationships we have with our present and ex-partners. They make sense of the world — more for them — with deep love for human beings and humanity. Imagine that you are one of them. I do that all the time. This is the ultimate fantasy that has got me to attaining a Doctor of Philosophy. If the degree does mean something, as it would be: I am ready to share my knowledge and self-worth to the world.
To my dear communication students, we are creating miracles every day in our Zoom classes. I look forward to seeing you soon on screen and in person.