Interview with a new wave of fashion designers: Gao Xiwen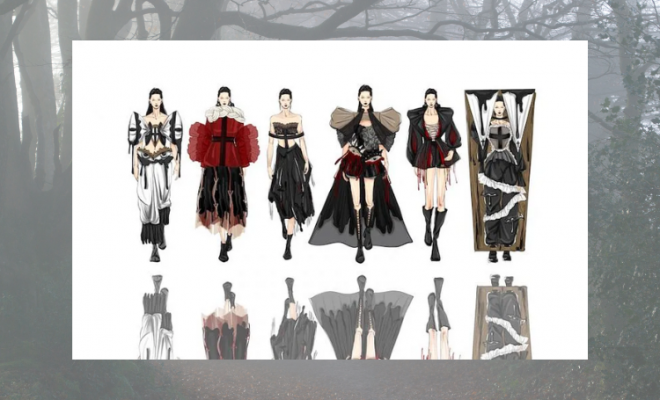 Featured as one of the semi-finalists for Harper's BAZAAR Asia NewGen Fashion Award 2022, Ms Gao Xiwen is a student from the MDIS School of Fashion and Design (SFD). We are delighted to get a close-up exclusive interview with her, as she shares her freshman to final year journey in MDIS and discusses her story behind her brilliant collection.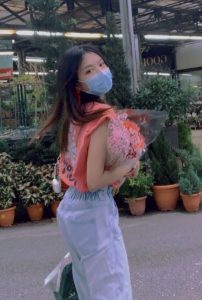 SFD student, Gao Xiwen
What is your design inspiration?
My collection is called Death Witch. The inspiration came from the witch exclusion movement in Europe from the 15th to the 18th century – whereby many innocent women were unjustly accused of practicing witchcraft and were subjected to all sorts of inhumane torture from burning to hanging.
Drawn in by the history, I chose it as my inspiration for my final year project. I wanted to pay tribute to the women who expressed resistance to oppression and make a statement for women's rights through my designs.
Is there a story behind this collection?
Definitely; in terms of textile design, my collection embodies various aspects of this history. In my design process, I incorporated unique materials such as twine (which was used to bind 'witches' and carry out hangings), broken cloth (symbolising violence against women), and flame-like sleeves with charred edges (a representation of execution by fire) — all of which subtly tells an impactful story.
What are your design influences?
I like to focus on hot topics and then expand on them to inspire my designs. I want my designs to convey aesthetics in every way so that people have the opportunity to experience a strong visual impact upon seeing my collection.
Why did you choose to study at MDIS?
What caught my eye about MDIS SFD was that there were spacious classrooms and fashion studios on campus for us to work on our projects. The conducive environment helped me to be more motivated and stay focused on my various projects and research. Other than that, the facilities are also equipped with excellent hardware and materials.
My lecturers played a crucial part in helping to boost my creativity as they pushed me to think out of the box during their engaging classes. Additionally, they have been a source of inspiration for me as they readily share their knowledge and skills from their vast experiences, which equip students like me to be career-ready.
What is your favourite part of being a fashion designer?
What I truly love about being a fashion designer is that I am able to breathe life into my ideas and designs. Like many arts and design forms, I get to have hands-on process experience, which in this case for fashion would be garment construction and apparel design. I get an ecstatic sense of achievement watching my designs go from flat to three-dimensional.
What do you like about studying at MDIS?
Currently, I am pursuing my final year project – something that I have been looking forward to since I started my fashion course. This required me to put my theory and practical skills I learnt to good use. With my project, I had the freedom to do whatever my heart desired, from inspiration and fashion styling, to producing the finished garment.
My modules were also rigorous and provided me with the necessary exposure to the fashion industry. For instance, some of my modules require me to work with other local Singaporean fashion brands, which gives me the opportunity and practice how I should interact with clients.
School of Fashion and Design
Looking to kick-start a fashion business or simply just eager to break out in the fashion industry? Look no further! Here at MDIS School of Fashion and Design (SFD), we offer design courses from diploma to degree. We welcome both local and international students and are open to accepting a variety of students – from students seeking full-time fashion programmes as well as mature students looking for part-time design courses. SFD equips students with the necessary skill set and experience to get them started on their passion for fashion. Browse our full list of fashion courses here.

Written by Natasha Sharudin and Gao Xiwen
Edited by Natasha Sharudin and Betache Precious Mae