Why University of Roehampton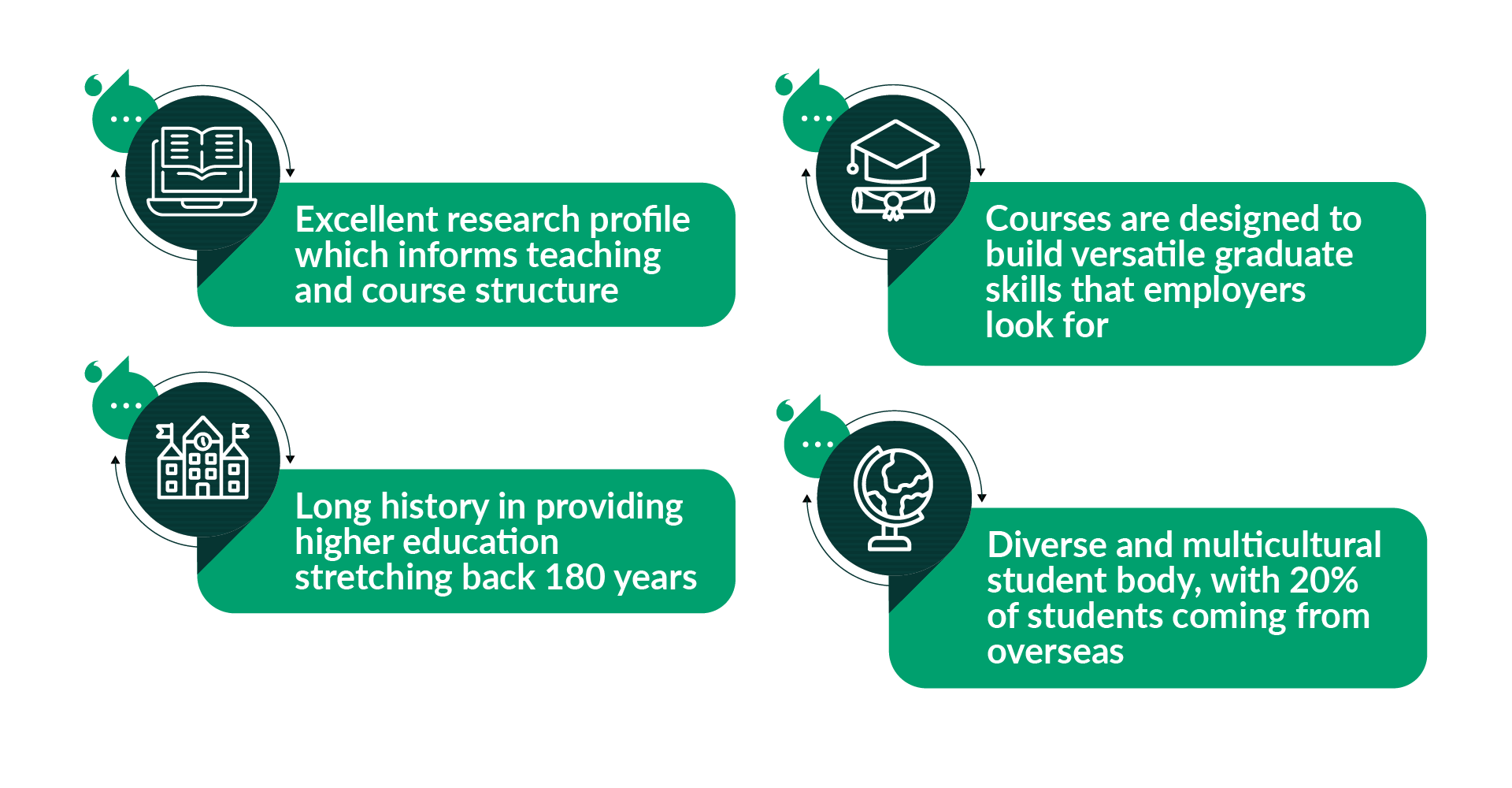 Follow Your Passion and Unleash Your Career Potential
The University of Roehampton has a long history in higher education, stretching 180 years. Formed of four Colleges, the oldest of which Whitelands has been providing higher education to women for longer than any other university in the country.
The University of Roehampton, as it is known today, was established in 2004. It is a campus university situated on two major sites in south-west London.
Roehampton changes the lives of its students by developing their confidence, knowledge and adaptability to help them progress into a successful graduate career and fulfilling life. Students and staff are encouraged to support, motivate and challenge each other in a friendly and inclusive community that values people as individuals.
With its international reach and reputation, the research undertaken by the University's academic staff helps to inform policy, enrich culture and improves people's lives. The University of Roehampton, formerly Roehampton Institute of Higher Education, is a public university in and it is one of the post-1992 universities. Roehampton is a member of the European University Association and Universities UK.
Why The University of Roehampton
WELCOME MESSAGE
Roehampton is a very special university. We have a fantastic history stretching back 180 years and are the only campus based collegiate university in London.
We are one of the most diverse universities in the world. At Roehampton we pride ourselves on helping all students, regardless of their background, to develop the skills they need for a successful graduate career and fulfilling life.
We have an exciting research strategy focused on having an impact on society. This research feeds into the content and teaching on our programmes, so our students are engaging with the latest developments in their field throughout their time at Roehampton.
We believe that a university education is not just about getting a great degree, but also broadening your experiences, preparing yourself for the world of work, and making lifelong friendships.
A Roehampton degree is designed to ensure that you graduate with the qualities you need to succeed: confidence, adaptability and the capacity to work with people from all walks of life.
I am delighted that you are interested in our courses delivered in partnership with MDIS and I wish you all the best with your studies.

Jean-Noël Ezingeard
Vice-Chancellor
Awards and Accreditations
Ranked top 30 for Food Science in the Complete University Guide League Table 2023
Ranked 1st Modern University in London in the Times Good University Guide 2022
Ranked 79th overall by the Complete University Guide 2022
Ranked the 10th best university in London in the 2021 Times and Sunday Times Good University Guide
Ranked 2nd in London for Food Science in the 2021 Times and Sunday Times Good University Guide
Ranked 801-1000th in World University Rankings 2021 according to Times Higher Education

Masters
Degree
Enquire Now on the University Of Roehampton, UK Programmes
Please complete the following form and one of our representatives will get back to you as soon as possible.
Contact Us
Local Students
International Students