MDIS Toastmasters Club (TC)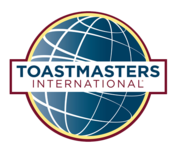 Public speaking should not be difficult. Gain some new experience with the MDIS Toastmasters Club (TC). Our mission is to provide a learning environment for every member to develop communication and leadership skills, which in turn foster self-confidence and personal growth. Learn about the power of communication through the MDIS Toastmasters Club.
MDIS TC helps members learn confidence by speaking to an audience and working with others in a supportive and conducive environment. Members get to share their experiences and ideas among fellow members. In TC, members will learn how to formulate, express and sell your ideas with poise and confidence.
During a Toastmasters Meeting
Giving impromptu speeches

Members get to learn to think on their feet by delivering impromptu speeches on assigned topics.

Presenting prepared speeches

Members will present speeches based on the topics given. A variety of assigned speeches help the participant to develop competency in areas such as thought processing, voice intonation, body language, gestures and persuasion.

Constructive speech evaluation

After giving the speeches, an evaluator will point out the strengths and provides valuable insights into the problem areas to all the speakers. In this way, speakers will gain encouragement and confidence.
TC Benefits
Build confidence

Members will build up their confidence and self-esteem with each speaking assignment at their own speed.

Practice makes perfect

Toastmasters meetings are conducted every month. These meetings allow members to have the opportunities to practice and hone their presentation and communication skills.

Regular workshops for TC members

English language, presentation skills, speech craft, communication skills and motivational sessions are regular workshops conducted specially for TC members at a subsidised rate or on complimentary basis.

Networking sessions

Networking sessions are planned for all our members every year. During these gatherings, TC members will be given different themes where they can practice their communication skills in a fun environment. These will also foster bonding among TC members.