Nursing and Healthcare Professionals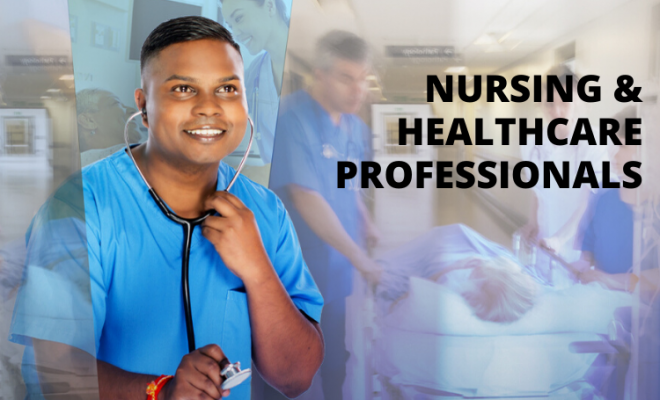 The healthcare industry is evolving. It has offered a range of career selections for enthused and energetic individuals who want to make a positive impact to the community. Two possible careers within the healthcare industry are nursing and health care science. The main difference between these two careers is that nurses primarily provide direct bedside care to patients while health science professionals work in hospital administration departments, pharmaceutical industries and other health related organisations. While nurses may work in an educational role, the health science educator is equipped with relevant education to develop educational syllabus and curricula for institutions of learning.
Nursing Career
Nurses are in demand and they are recognised globally. Nursing is one of the most sought after professionals and have a variety of different career options. There is a large demand for nurses who provide bedside care to patients in settings like nursing care facilities, nursing homes and hospitals. Nurses who have advanced degrees can attain positions as nursing or health service managers. They plan and coordinate the delivery of health services and may manage a department or an entire facility.
Nursing Education
Degree opportunities in nursing range from associate degrees and certificate programmes to doctorates in nursing practice. All nursing curricula have a core science requirement, including subjects such as biology, chemistry, human anatomy and nursing practical skills. As students advance through the bachelor's and post graduate programmes, the courses expand to cover specialised areas like midwifery, oncology, emergency nursing, mental and geriatric care. The Bachelor's programmes normally take two to four years and prepare graduates to become registered nurses. An additional two years in a master's programme qualifies graduates to become nursing practitioners, nursing managers and directors.
Career in Healthcare Science
A degree in healthcare science is designed to prepare students to become healthcare professionals working in a hospital administrative setting, nursing schools or pharmaceutical companies. Graduates from healthcare science programmes may write and develop teaching materials and curricula for classroom learning, as well as informational catalogues on health for distribution to the public.
Health Care Education
The syllabus in healthcare programmes combine a substantial number of health, social care, business, finance and public health policy topics. To learn the substance of health science education, students pursue courses in chemistry and biology, as well as physiology and human anatomy. These classes form the basis for courses like human physiology, drugs and culture, nutrition and community health. Additionally, by exposing students to business, accounting and financial modules they will be able to develop business plans, understand basic financial concepts and draft financial statements for their respective healthcare organisations.
Studying public health law and policies will also allow students to comprehend the interactions between social aspects, policy and health issues both locally and internationally. They will be able to set a general action plan based on health policies that are used to guide desired outcomes and fundamental guidelines to help in the process of decision making. Furthermore, ethics and law modules in the healthcare management programme will allow students to know the importance of ethical standards through medico-legal aspects. Thus, students will have a deeper understanding in promoting moral and social responsibility, patient welfare and legal safety compliance.
Conclusion
For years, doctors, nurses and other healthcare professionals have worked diligently in improving the quality and services in healthcare. Partnership from all healthcare professionals will provide a variety of effective and successful methods to improve patient care as well as promoting a healthy nation.
References
This article is contributed by Evonne George.