High Demand for Nurses in the Next 10 Years (On a Global Scale)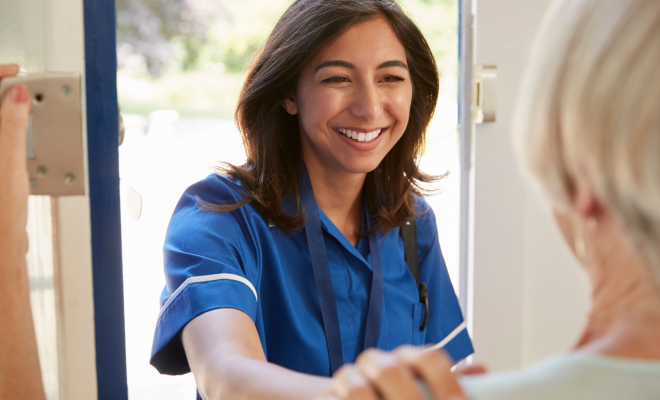 The World Health Organization (WHO) calls for an investment in the worldwide acceleration of nursing education and jobs amid the inadequacies during the pandemic. The shortage of nurses is an international issue and should be seen as such, instead of it being treated just as a national problem. The world needs 6 million new nursing jobs by 2030 to meet health targets, especially in low- and middle-income countries as equitable distribution for nurse-to-population density levels and retention has been a universal challenge (see recent list of countries here).
Nursing is the largest occupational group in the health sector, approx. 59% of the health professions
The global nursing workforce is 27.9 million, of which 19.3 million are professional nurses.
Up to 4.7 million nurses worldwide are expecting to retire by 2030
The world needs 6 million new nursing jobs by 2030 to meet health targets
The world could face a shortage of up to 13 million nurses by 2030
The ICNM estimates 10.6 million new nurses will be needed to both address the existing nurse shortage and replace the 4.7 million nurses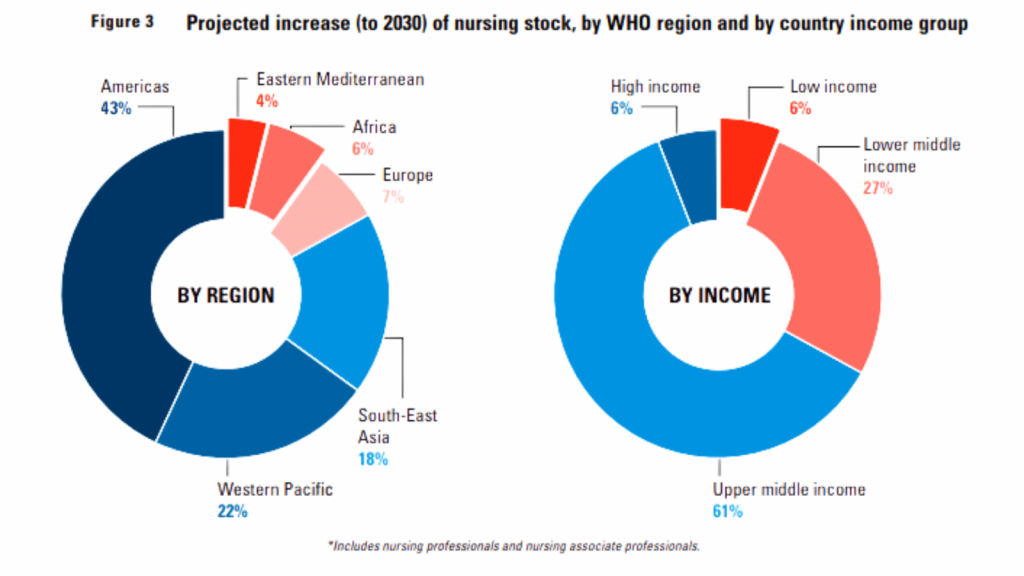 Image Credits: WHO
The increased intentions for leaving the nursing profession continues to rise largely due to insufficient resources, burnout and stress from the workload. The ageing workforce population is also a threat to the stability of nursing, primarily in the American and European regions. With 4.7 million nurses retiring by 2030, and nurses leaving the profession by choice, the gap will be impossible to fill without investments. 
While there is already an increasing number of nursing students since the start of the pandemic, there will still be a three-to-four-year gap before new nurses are ready to enter the workforce – which might leave the healthcare industry and the world exposed to possible new threats.
More nurses, especially experienced nurses, in the workforce will solve the rising attrition rate. However, in order for that to happen, governments need to invest more specifically in the massive acceleration of nursing education; particularly the faculty, infrastructure, and students. They will also need to invest in creating new jobs to offset projected shortages (with improved capacity to employ and retain graduates) and strengthen nursing leadership to have a role in creating more effective health policies.
Since 2021, nurses in Singapore receive an increase in salary of up to 14% depending on their seniority and their profession – with adjustments made accordingly.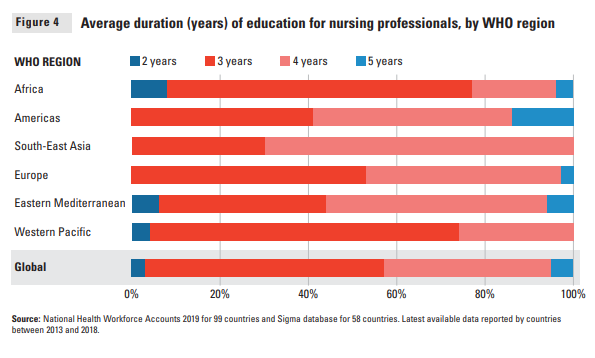 Image Credits: WHO
There are different pathways and specializations for nursing which include clinical, management, education, informatics, and science. Example of nursing pathways, in Singapore, below.
Image Credits: SingHealth
Sources:
https://www.thehindubusinessline.com/news/world/singapore-runs-short-of-nurses-nursing-in-high-demand-globally/article37676719.ece
https://www.icn.ch/sites/default/files/inline-files/ICN%20Policy%20Brief_Nurse%20Shortage%20and%20Retention_0.pdf
https://www.weforum.org/agenda/2020/04/nursing-report-who-nurses-coronavirus-pandemic-health-goals/
https://www.channelnewsasia.com/singapore/salary-increase-nurses-public-healthcare-up-to-14-percent-308366
What is the Monthly Salary of a Nurse in Singapore?