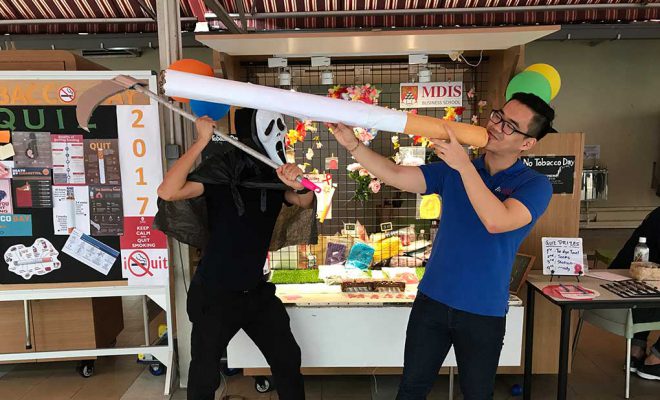 MDIS No Tobacco Day was held on 31 May 2017, in conjunction with the World's No Tobacco Day. It was started in 1987, aimed at encouraging a day of abstinence from all forms of tobacco consumption and drawing attention to the widespread use of tobacco, its negative health effectsand advocating for effective policies to reduce tobacco consumption.
The theme for World No Tobacco Day 2017 is "Tobacco – a threat to development."
This year, the MDIS Business Club (MBC), with the support of the MDIS Business School, set up a pushcart in the campus to help to create awareness of No Tobacco Day. A push car was set up and four main activities were promoted. In collaboration with Singapore Cancer Society, merchandises were sold and the proceeds given to the Cancer Society. Quizzes allowed participants to participate and be informed and aware of No Tobacco Day.
For the mobile mob, MBC had formed a team to walk around the campus top romote this event. Some of the members held huge handmade props such as cigarette butts and scythe. Lastly, the helping memo allowed students and staff to pen down their messages on memos and stick themonto boards that were provided. These messages were mainly encouragements from the students who wished to persuade and support smokers to quit smoking, or inform them of the negative effects of smoking.
The Singapore government is discouraging people from smoking such as extending the ban on smoking to all parks in Singapore. The Health Promotion Board has a program on 'I Quit 28-Day Countdown' to support individuals who want to take the first step towards a smoke-free life. Tobacco consumption not only poses negative health effects, it also threatens development in economic growth, health, education, poverty and the environment. Apart from the policies implemented by the government, each individual can also play a part in stamping out tobacco consumption and making it a better place for everyone.