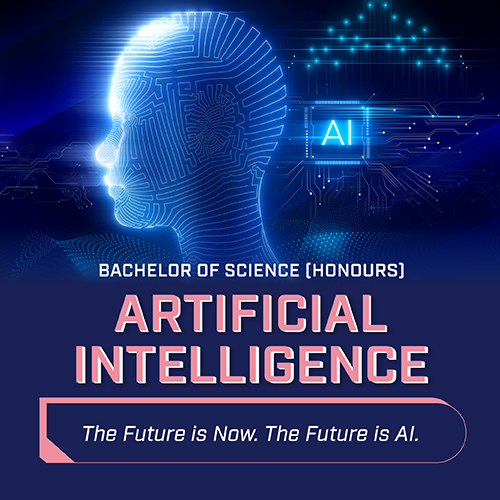 Love the changes with new technology and development?




Defy the Odds. Immerse yourself in the practice. Define the Possibilities.
From the baseline of automated work processes to game-changing propositions beyond machine learning, Artificial Intelligence (AI) has disrupted critical operations across the realms of a wide spectrum, as such the automotive, healthcare, finance and cybersecurity industries. On gaining entry, there is no best timing. Start now to learn all essential knowledge and skills, unleash your creativity, drive innovation, improve user experience, and explore new solutions to complex problems across industries.
This programme is designed to enable students to explore the mix of theories and practicum as well as system design and development. You will be equipped with industry-relevant knowledge and the skills required to develop artificial intelligence-based systems, and much more.
Sign Up Now!
Bachelor of Science (Honours) Artificial Intelligence


COMPLETE IN 32-36 MONTHS
(Full-time: 32 Months / Part-time: 36 Months)
Please complete the following form with the information below.