10 Proven Skills to Elevate Your Employability as an MBA Graduate
As the business world continues to evolve, more and more companies are recruiting MBA graduates with valuable skills. Financial Times surveyed more than 70 leading business employers around the world but just under half of them said they struggled to hire MBA graduates with the right skills. While an MBA is a qualification that employers consider when hiring, it has to come hand in hand with the right skill sets.
If you are an MBA graduate or someone interested to pursue an MBA, perhaps this article will help shed some light on the skills sought by leading organisations.
Here are the top five most important skills employers look for in MBA graduates:
1. Ability to prioritise and meet deadlines
We all know that time management is key to achieve whatever goals we set – but the question is, are you practising it?
As we face a future of distinct volatility and tremendous change, coping strategies can aid us in navigating the time we have on our hands for professional development.
In an interview following McKinsey & Company's 60th Houston Safety Excellence Awards, CEOs of various organisations came together to discuss time management strategies that can improve workflow and productivity.
From creating taxonomies of time to managing task trade-offs, time is a finite resource that, if managed effectively, can influence the way we perform at work. Juggling multiple tasks effortlessly while being able to complete them before deadlines, delivering good quality work on time and making wise decisions during critical moments make you indispensable to an employer.
One of the great laws of labour is that time equals money. When you know how to prioritise, it helps you to get more things done and waste less time. With greater self-productivity, the company's overall performance could improve as well.
2. Teamwork & communication skills
In order to have a successful and stable career, you need to have the ability to work well with your peers. Most MBA programmes incorporate assignments and tasks that require you to exercise your teamwork prowess, including group activities that also hone your communication skills. Teamwork and communication skills come hand in hand.
Conflicts are no doubt inevitable in most workplaces – whether it is solving internal issues, pitching an idea, negotiating a sticking point, or delivering performance feedback. Communication is an everyday tool in all workplaces. According to Fitchburg State University, both teamwork and communication skills are essential to manoeuvre towards a collective goal when a team addresses their differences together.
3. Problem-solving skills
Professionally-trained MBA graduates are required to be mentally prepared and to take charge when problems arise so that business operations can continue to function optimally.
When an employer assesses your suitability for an organisation, they look at more than just technical skills; they also look at your ability to solve complex issues. Amazon's former employee, Dee Clarke stated that the company has been hiring MBA students for the last 10 years because they value these students' potential in tackling their biggest problems.
At times during an interview, you will be given scenarios to test your problem-solving skills. This is your time to shine for the employer, as they get to know your level of self-awareness when facing a certain crisis. Once they get an idea of how you address and overcome obstacles, you will have a higher chance of getting hired.
4. Social networking skills
Networking is an important, proven strategy to make connections with people who are not only in the same field as you but also those from other industries. It allows you to further your MBA career by building mutually beneficial connections. Yale's Director of Career Development, Abigail Kies said that most job switches today depend on networking.
However, networking is not just about securing a job. Employers often keep an eye out for candidates who possess this skill in order to sustain and expand the network of people within their organisation. In fact, spending more time networking also helps you to build your personal brand and make yourself more prominent among those in your industry and community. The stronger your profile, the more outstanding you will be as an employee or entrepreneur.
5. Understanding the digital impact on businesses
As we step into a digital era, the knowledge of technology is essential for any business operations such as communicating with customers, protecting confidential data from cyber-attacks and being efficient when carrying out procedures. Business schools are already striving ahead in training MBA students to be digitally-savvy. Professor Annabelle Gawer of London's Imperial College Business school said that today's business is not just transactional, but also about engagement.

Beyond emerging demand for data, analytics, and artificial intelligence knowledge, graduates need to develop resilience to learn new skills, especially in technology. According to Financial Times, if you can manage digital projects and acquire multifaceted skills, leading organisations and even start-ups would highly value you.

What are the skills that employers look for in their potential hires, but are hard to come by?
Growth comes in many different forms – from taking on increased responsibilities to facing new challenges. It is a significant reflection of one's managerial capabilities in any type of domain; more than just what is on paper. Individuals need to display a steadfast and resolutely persistent attitude to emerge as leaders. To successfully chart your career trajectory, it is crucial to identify the skills that you will need in a competitive workforce.
Apart from the skills mentioned above, soft skills like creative problem-solving, strategic thinking, leadership skills, analytical thinking, communication skills, and the ability to work collaboratively are the most wanted skills according to Bloomberg, when they surveyed 1,320 job recruiters at more than 600 companies.
However, finding candidates who possess such skills is not that simple, as reported by Bloomberg. Fostering these skills will offer you a competitive edge in your respective fields where industries want talents who are ready and are able to prepare the organisation for the enterprising world of tomorrow.
Here are five desired skills by employers but which are hard to come by in MBA graduates.
1. Social media knowledge
To keep pace with new business trends, one should adopt the ability to use social media as a platform to execute research, obtain additional insights on individual projects, and to run digital campaigns.
The corporate world today bears little resemblance to that of several decades ago. This transformational shift, in part brought on by technology, is breaking the mould and redefining the behaviours, skills, and abilities employers value and want to create at work.
Social media offers vast market opportunities to reach worldwide audiences. More than 3.8 billion people around the world now use social media, according to a recent report from We Are Social and Hootsuite. The use of social media for marketing campaigns has become common in most companies, which explains the strong demand for hiring candidates with the skill to convert online channels into effective marketing platforms.
As stated by The New York Times, social media platforms are not marketing toys to be handled by interns but by professionals with an understanding of the technology and the community that uses it.
2. Leadership skills
"The very essence of leadership is that you have to have vision. You can't blow an uncertain trumpet." – Theodore M. Hesburgh, American priest and educator.
Today, innovation is at its peak, giving rise to new think tanks in various organisations that spearhead future developments in this direction. What makes this possible are the futurist leaders who can apply strategic reasoning, creative problem solving and critical thinking to assess existing gaps and let innovation fill the void.
We all know that leadership traits do not come from simply studying textbooks or manuals, but from gaining mastery of this attribute over time as it is a behavioural pattern that is organically developed in people.
Great quality leadership skills include the ability to influence and inspire others to achieve a common goal together – whilst being a good listener and supporter of your team.
3. Financial forecast skills
The ultimate goal of every company is to earn substantial profits so that the business revenue is always sustained. This requires a lot of planning, detailed insights, and analysing the past and current conditions of the organisation's financial affairs.
A financial forecast often begins with a deep understanding of how finances work for the business. With accurate information on incoming revenue streams, debts, drill-down analysis of cash flows, market shifts, and potential threats, business owners are able to make the right decisions for the growth of the company. It also helps the company in developing benchmarks for future funding to upgrade new business ventures and initiatives – therefore, obtaining this skill is essential for businesses.
4. Knowledge in big data analysis
The significant power of big data will give rise to something bigger than what we can imagine in just a matter of time. A variety of enormous data is being generated at an extremely fast pace in various sectors. Thus, analysing big data has become highly crucial and inevitable.
As a result, big data analytics is being adopted all throughout the globe in order to extract important information. Big data analytics examine large and different types of data to uncover hidden pattern correlations and other insights. Leading organisations are spending millions to organise their data so that it can be connected, analysed, and monetised.
It is no doubt that analytics skills are one of the hardest skills to find in MBA graduates. In recent years, data analytics has grown rapidly and employers are increasingly aiming for new hires who are data literate.
According to an MBA graduate from the University of Hong Kong (HKU), Tim Chan said that he strongly believes that analysing data and understanding customer behaviour will help grow businesses. It is also useful if one could pick up some online courses to learn how to make use of tools for Python, for instance, he added.
5. Brand storytelling skills
When was the last time you heard a story? Mention stories and we often relate it to fiction, documentaries or childhood fables. However, storytelling is also highly utilised by organisations to develop stronger bonds among employees internally and to build customer loyalty externally, especially in the attempt to resonate with the golden market: millennials.
Today, many companies are in the pursuit to weave compelling narratives to sell their brands and products, because storytelling provides meaning, creates context and instills a sense of purpose in all that we do. All of us are more receptive to stories than we are to data or cold hard facts. To become a stronger storyteller yourself, you need to learn the key ingredients of successful storytelling techniques in order to develop stories that will engage your audience.
Based on a LinkedIn study, 2012 was the crucial turning point in the emergence of brand storytelling. The marketing world took notice that storytelling through content marketing was one of the best avenues to engage consumers when Coca-Cola launched its Content 2020 strategy. To successfully engage through brand storytelling, your content should make your customers the hero of your brand story while staying authentic and transparent.
Your education should supplement your ability to excel in your industry.
Therefore, investing in an MBA should not be merely for the credentials accorded but rather the hard and soft skills you will acquire and can put to use for most of your career, as described by TODAY. Quality education over certification should always be your motivation in your academic pursuits.
Before stepping into the workforce, you should think about where you envision yourself in your career path, both in the short term and long term. Your first move in job hunting should be to have a firm understanding of what you can bring to the table. Once you have a solid sense of purpose, the interviewer will be able to see if you are qualified for the role through your pitch and confidence.
Choosing an MBA career can be overwhelming as it has broad applicability in a wide range of industries. Graduates can work in industries ranging from entertainment, to healthcare, real estate, information technology, and many more. This is the time when you should consider potential jobs and career paths that you would like to pursue instead of merely choosing a career for a living.
Finding your purpose provides you with the motivation you need to find something that you are passionate about and are good at. If you are unsure, get to know yourself more by asking yourself these questions to get a clearer vision of your desired role:
What are you aiming for?
What do you care about?
What do you love?
What does the world need?
Who would you rather work with?
Which industry do you see yourself taking on challenges?
How can you contribute to the company?
Source by GradSingapore
ROI of an MBA
We know that an MBA degree can be the catapult for graduates targeting managerial or senior administrative positions in a firm. It helps you develop a broader perspective, leadership skills, and new business techniques. However, on top of all that, the majority invest in an MBA to increase their income.
As reported by TODAY recently, the return on investment (ROI) for taking up an MBA can be high. Education research firm QS Intelligence Unit calculated in its Return on Investment Report that the average global 10-year ROI of an MBA is US$390,751.
Stanford University is the world's best at US$1,023,150, while the Imperial College Business School in London is the best in Europe at US$870,200 and Hong Kong University is the best in Asia at US$845,350.
It takes an average time of 51 months globally to earn back what you have invested, with Europe the fastest at about 39 months. In Singapore, the payback time takes 33 months at the Nanyang Technology University and 36 months at the National University of Singapore. Not to mention, an MBA graduate in Asia can earn an average annual income of US$63,948.
Route to entrepreneurship
A business qualification leads you to different opportunities. This is because its curriculum puts tactical skills at its core – critical thinking, collaboration and management. Some may have plans to be entrepreneurs which takes them a longer route to grow their enterprise into a lasting profit-making business.
With the flexibility and financial independence of running their own business, nearly three-quarters of millennials in Singapore dream to be the next Mark Zuckerberg or Steve Jobs, based on a research by GoDaddy.
However, many start-ups fail because no proper planning or analysis was done beforehand. In order to succeed, Marcus Tan, co-founder of an online marketplace, Carousell, encouraged all to-be-entrepreneurs to do competitive analysis – whether it is stalking competitors on LinkedIn or other social media platforms, or reaching out and connecting with them. Head out to learn more about the industry, learn about the segmentation, figure out who the players are and conscientiously check off what needs to be done to grow your venture.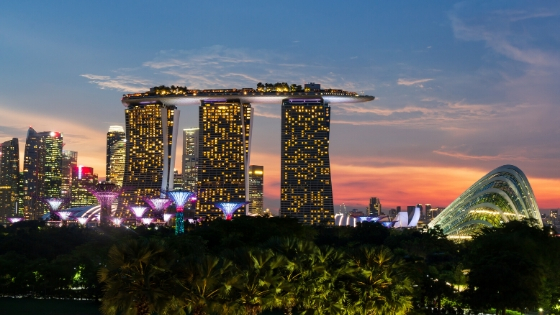 After pursuing an MBA, what's next?
For those who plan to work in Singapore after your MBA, it is a remarkable place to start as Singapore now ranks the top of the world's most globalised economy, overtaking the States with its digital skills, inflation and trade tariffs, according to the Global Competitiveness Report 2018.
As the economy is competitive in Singapore, big organisations and even startup companies are always looking for employees with fresh ideas to build their enterprise.
Furthermore, adapting to the environment will not be as difficult as the main working language is English, tearing down the worries of a language barrier. A melting pot of cultures, from Chinese to Malay and Indian – each community comes together as a society to offer different perspectives on life in Singapore.
When living and working in Singapore, you can rest assured about your safety as the levels of crime and corruption are low. Today, Singapore is a bribe-free society after surpassing a long chain of improvements and law enforcement practices. Based on the Corruption Perceptions Index 2019, the country is ranked the fourth least corrupt country in the world.
Then again, working in Singapore is not all jolly and worry-free. Apart from being known for its affluence and political stability, Singapore is also known to be an expensive city to live in. Despite all that, certain expenses such as food, public transportation and some inexpensive entertainment destinations, can be kept affordable according to Harrison Jacobs, Business Insider's international correspondent. He also assured that if you live like the locals, you will not burn such a huge hole in your pocket.
The Lion City takes pride in its top-notch education with the potential talents the country produces. If seeking a new chapter in your career is what you envision for yourself in the coming year, you can do more with your rich industry experience when you pursue a DBA programme in Singapore.
Besides being recognised for its latest academics and experienced faculty members, the local universities partner with renowned universities across the globe, putting the nation at a competitive edge over other institutes. These partnerships reflect a wider focus on innovation and internationalisation among other universities in the nation, offering a growing selection of exciting options for potential students.