Fashion by Yohji Yamamoto
The Figure 1 above is a runway shot of a model wearing wide culottes that closely resemble a skirt. To the uninitiated, wide culottes might be a metaphor for a skirt. In reality, the cut is a specific hakama pants worn by Japanese men in the field of aikido made famous by Morihei Ueshiba, the founder of traditional Japanese art of aikido (Figure 2).
These common terms appear in fashion retailers online as it is necessary to catalogue and define the garments they stock for the ease of the consumer. Any process of cataloguing requires categories (Cabonero, 2013) and when those categories are binary and leave no room for vagueness, there is no allowance for anything that falls out of the specific categories. This categorisation causes designers to design within set boundaries, rejecting the categorisation will invoke creative outcomes like the ones produced by Kawakubo. Yamamoto has managed to find a middle ground that appeals to his market while keeping garments uniquely deconstructed.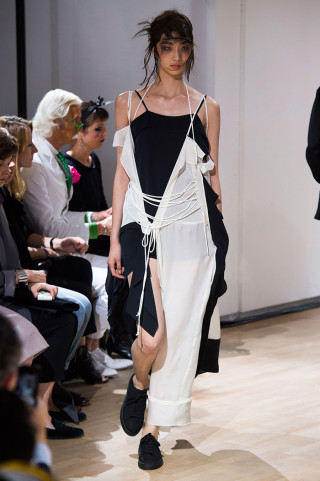 For the Spring/Summer 2015 season, Yamamoto designed garments that were able to tie and cinch with rope and strings. For the runway, the rope and strings were let loose and the garments looked like it was falling apart as seen in Figure 3. It was in essence a story of a woman coming undone in a sensual way. The ornaments dangled while revealing parts of the body.
In Figure 4, it is seen that his illustration style involves only the key essentials of his design methodology being shape and silhouette. Every other detail is taken out, button placements, a face, hems and even the existence of layered garments. The notion of the garment itself is bare, it could be a figure wearing an overcoat standing sideways or a figure wearing a dress holding on to a walking cane with the left hand. This ill-defined illustration allows Yamamoto to be flexible in creation. If the 'Evaluation' stage of the Basic Cycle of Design claims properties have to be compared with the corresponding desired properties in the design specification (i.e. from illustration to final product) and in doing so, there should always be differences and it more often than not excels in making the product creatively unique (Roozenburg and Eekels, 1995). In doing so, Yamamoto has created unique garments that while follow a structure, unlike Kawakubu, still introducing a unique flair.