Beyond Multiculturalism to Melding Intellectual Capitals: Singapore's Next Move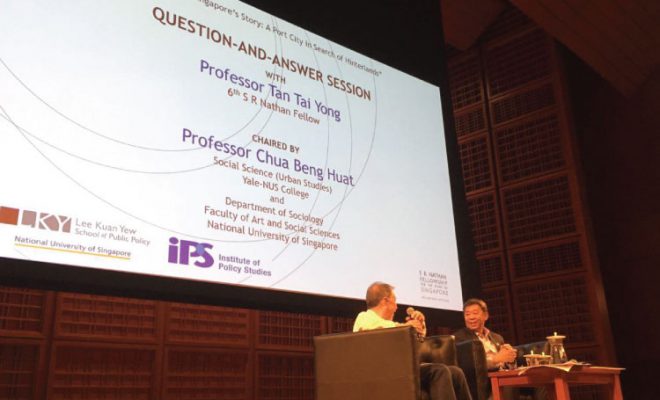 "It was during this period of growth as a colonial port city, when much older and indigenous transnational connections were revitalised, that Singapore became the heart of the intellectual world of Southeast Asia" (Prof Tan Tai Yong, 2019)
It is gratifying to learn that Singapore was a focal point of intellectual treasures in Southeast Asia. Anchoring on such legacy, Singapore's education system has produced a pool of talents that punch weight above the country's size. However, the challenge of melding knowledge acquired from the West into the existing rich intellectual tradition of the Nusantara (a Javanese term for "archipelago") is the next progressive step in Singapore's education industry. Both public and private institutions could come hand in hand to realise this vision.
As an entrepôt (or in Prof Tan's terms, a port city), Singapore saw the fluid movement of commercial and intellectual networks in the city. These peoples brought along valuable knowledge and the city remains the only port city that did not regressed compared to others in the region. In Prof Tan's words, "… Singapore has evolved into a city-state whose economy, inextricably linked to an international system driven by commerce and enterprise, is sustained and nourished by global economic conditions." (2019) However, one challenge stays– how do we develop knowledge that is Southeast Asia-focused?
It may seem like a simple question, but it takes great effort to realise it. Firstly, there should be reflexive effort to evaluate existing frameworks on which knowledge is built. These frames will help us to determine the building of new knowledge. Secondly, a concerted effort should be made to connect scholars from various fields at national level, to present their researches and findings Lastly, with existing institutions' (both private and public) knowledge resource, a vibrant and active scholarship community could be nurtured. As a hub, Singapore is well-positioned.
Singapore could take this as a national effort to engage in intercultural knowledge exchange. It promises integration among the different cultural sensibilities above and beyond multicultural integration, for scholarship covers how different cultural elements have gone beyond their existing spheres fusing into another cultural milieu. This cultural milieu is the next progressive cultural entity that fundamentally built on the existing geographical and intellectual assets of Singapore. Application of such findings could be introduced progressively into institutes of higher learning. Most importantly, besides training Singapore's next generation of students, Singaporeans at large should also benefit from new knowledge. Subjects related to Humanities could be introduced into existing workforce development initiatives.
As Prof Tan Tai Yong put it succinctly in the third IPS-Nathan lecture[1], Singapore has not only tapped on the Malay Peninsula before independence but also successfully taps the region and internationally as its hinterland. His reference to the "Asian hinterland" is a good departure point. Starting from Southeast Asia, Singapore could gradually move to other parts of Asia, especially Northeast Asia (China, Japan and South Korea), where the machinery of rapid economic development has been put in motion. While melding knowledge of the Nusantara with existing knowledge from the West, a constructive conversation could be initiated with countries in Northeast Asian region.
Through such exchanges, Singapore could be the intellectual centre to find common language between the West and the Asian languages (mainly in China Mandarin). Not only Singapore could constructively promote good rapport between China, the United States and Europe, but also to show that Western values do not fundamentally oppose Chinese philosophical ideas. While doing so, there should also be side efforts to do the same for other Northeast Asian countries. In this respect, translation is an important element in ensuring good constructive discussion and discourse.