6 Tips on finding a job through a Virtual Career Fair
Looking for a job in this COVID-19 economy can be daunting. From writing the perfect resume to searching through the various job search portals, all these can seem overwhelming. Where do you start? Happening on 17 September (Friday), 10 am – 4 pm, MDIS is collaborating with various organisations to bring you the MDIS Virtual Career Fair 2021.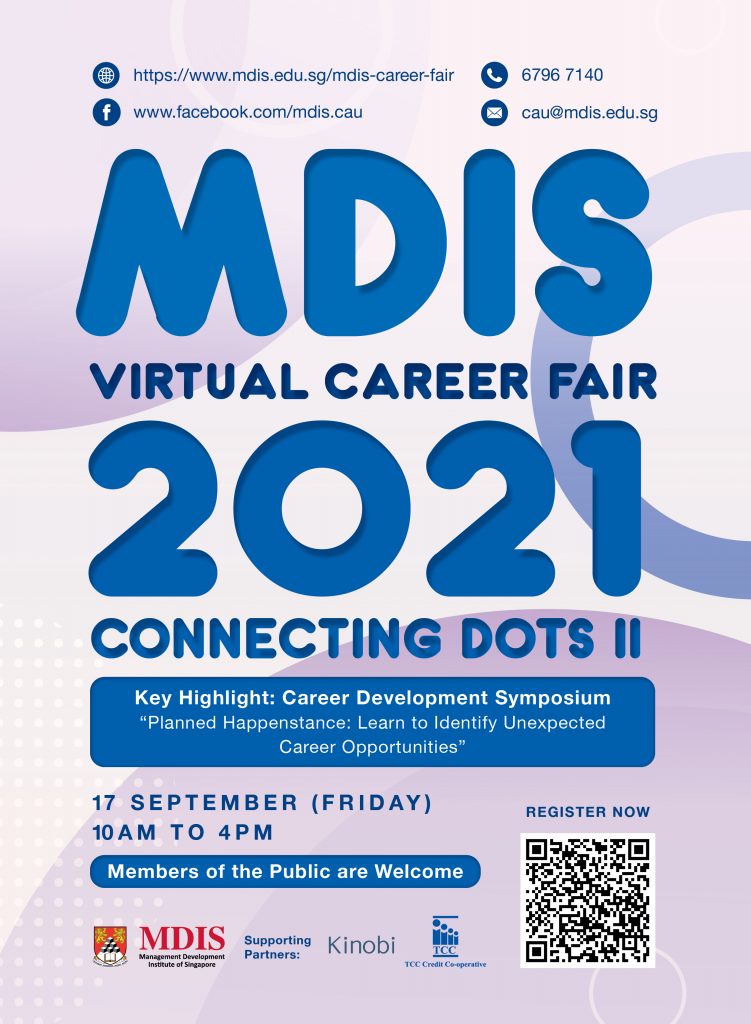 Here are some of the highlights of the career fair:
. Meet potential employers such as FOC Sentosa, National Healthcare Group, RE&S Enterprises Pte Ltd and more.
. Learn practical techniques needed to thrive in the post-pandemic employment landscape through career development talks.
. Unsure if your resume stands out from the crowd? Book a free consultation with Knobi and receive personalised and expert advice on your resume.
. Adulting means having to manage your own finances. Speak to TCC Credit Cooperative to learn about savings and loan-related services and keep your financial health pink.
6 Tips to prepare yourself for the Virtual Career Fair.
1. Pre-register for the career fair and set a calendar reminder.
2. Research on prospective employers and make a list of which employers you would like to meet. Understand and have basic knowledge of the companies you're interested in and know the products and services they offer.
3. Have an elevator pitch prepared in advance. Be your best advocate and share a quick summary of your skills and experience. Career fairs can be fast-paced, so keep your pitch succinct.
4. Make a list of interview questions and have your answers ready. This is also a good time to ask some of the questions you may have about the company.
5. Have your resume and portfolio ready on hand. A website is an easy way to showcase the work you have done and can be easily accessed by potential employers at a virtual career fair.
6. Follow up with the company by sending a short thank you email. Express your appreciation and provide any additional information that would be useful.

This career fair is open to all MDIS students, graduates & alumni, Hostel residents, MDIS Malaysia & MDIS Tashkent. Pre-register here today: https://bit.ly/3mpju32