Official Launch:  Aquaculture Innovation Centre and tour of facilities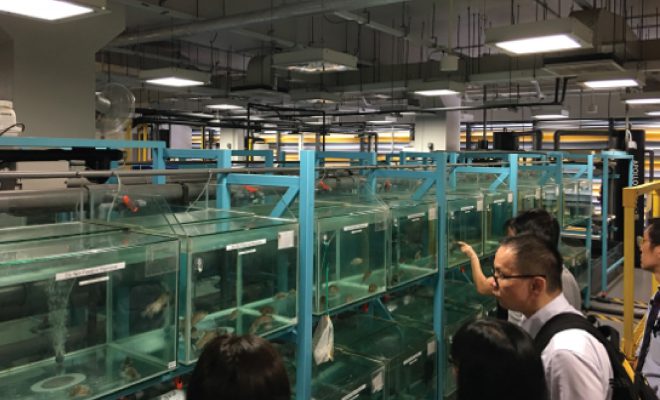 The Aquaculture Innovation Centre (AIC) was officially launched on Wednesday 26 June 2019 by Dr Koh Poh Koon. Situated on the premises of Temasek Polytechnic, the centre is a consortium of tertiary and public institutions. Spearheaded by Temasek Polytechnic, the constituent members are the Agency for Science, Technology and Research (A*STAR), James Cook University, Nanyang Polytechnic, Nanyang Technological University, National University of Singapore, Ngee Ann Polytechnic, Republic Polytechnic and the Singapore Food Agency (SFA).
FOCAL AREAS
With its vision of being a regional centre of aquaculture innovation and technology, the AIC is in a favourable position to assist local and regional aquaculture companies in developing their businesses. The AIC have identified 5 aquaculture focal areas namely:
Genetics, breeding and seed supply to ensure Food Supply Resilience.
Nutrition, feeds, additives and feeding for Food Productivity and Sustainability.
Health and disease management for Food Safety and Security.
Integrated aquaculture systems for Energy and Space Optimisation.
Water and waste management for Environmental Sustainability.
These 5 focal areas will synergise towards the development of high-density Self-Monitoring And Reporting Technologies SMART aquaculture systems to achieve Food Productivity Gain. And this synergistic approach will be complemented by existing SMART technologies, e.g. Internet of Things and the extensive use of sensors to minimise manpower usage and maximise productivity and efficiency.
EFFORTS TO PROMOTE SUSTAINABILITY
With the goal in mind, AIC aims to "Grow More with Less" to achieve a sustainable farming productivity and create "Zero Waste Management" to minimise environmental impact and create increased environmental sustainability. The technologies which they develop will reduce:
Water usage: Advance water purification and recycling technologies to support intensive aquaculture.
Land usage: Vertical growing to create small foot print, containment culture systems with controlled habitat.
Manpower reliance: SMART technologies, self-cleaning technologies for tanks and net cages.
Environmental pollution: Advanced animal waste treatment, by-product recycling.
Production cost: Increase efficiency and increase cost effectiveness of operations.
AVAILBLE SERVICES AND EXPERTISE
With their combined resources and expertise, the AIC offers the following services:
Feed development & performance
Feed quality testing
Live feed enrichment & production
Fish meal replacement with alternative food source
Evaluation of feed or product efficacy
Breeding, hatchery & larviculture
Selective breeding & seedstock development
Diagnostic lab test method development
Vaccine development
Pathogen challenge studies
Water technology & waste treatment strategies
Material development for Recirculating Aquaculture Systems (RAS)
Smart urban aquaculture technology development
Customised training, certification programme, seminar & workshop
RESEARCH FACILTIES
The AIC operates a 1200m2 aquacentric research and services facility within the Centre for Aquaculture and Veterinary Science and Temasek Aquaculture Facility, and both centres come under the umbrella of the School of Applied Science.
Tours of the facilities were conducted and guests had the opportunity to observe the advanced aquaculture technologies employed at the centres.
Guests were shown the culture holding tanks of sea bass and crabs and were given brief introductions to the breeding and culture cycles of these 2 marine organisms. Crab breeding is an important and valuable food crop in Singapore as Singaporeans consume large quantities of crab and Singapore is currently reliant on crab imports from Sri Lanka, Australia and Malaysia. Hence, crab breeding and aquaculture is the current research focus. On the market, there are no companies producing feed for larval and young crabs, and the research centres have to experiment and formulate their own feeds. The centres have a feed formulation and production facility, so they can produce experimental feeds on a pilot scale and use the feeds for crab aquaculture. The current experimental feeds had shown success in crab aquaculture as the larval and young crabs readily feed on the feeds and have shown normal healthy growth.
As fishmeal, which is the traditional feedstock, becomes scarcer and more expensive, the centres have identified insect protein and soya protein as alternatives to producing the feeds.
Guests were also shown the algae culture laboratories in which beneficial algae that are consumed by larval and young crabs, are cultured and propagated. The beneficial algae were bought from commercial companies, and the centres are also conducting research in isolating other beneficial algae species locally, so as to improve on the feedstock production process, efficiency and cost effectiveness.
The tour of the facilities concluded with the visit to the feedstock production plant where the equipment used for grinding, mixing, pellet production and drying the produced feed pellets were housed.
This article is written by Dr Eugene Koh from MDIS School of Life Sciences.
References:
https://www.tp.edu.sg/centres/aquaculture-innovation-centre#tab1
https://www.tp.edu.sg/centres/aquaculture-innovation-centre#tab2
https://www.tp.edu.sg/centres/aquaculture-innovation-centre#tab3
https://www.tp.edu.sg/centres/aquaculture-innovation-centre#tab5