Online MBA USA: Tuition Fees and Admission Requirements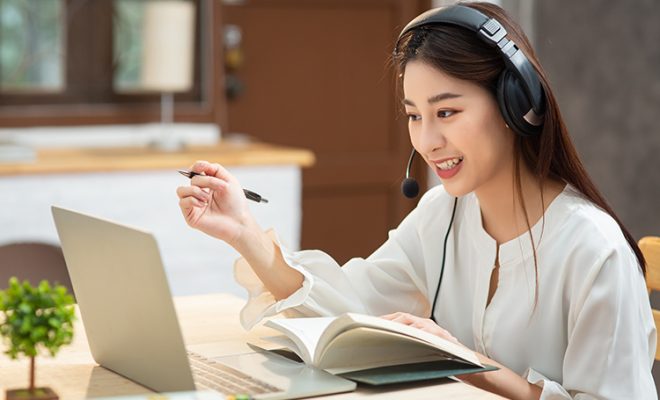 An MBA programme or Master of Business Administration prepares one for broad skill sets in a company or organisation. It helps individuals learn holistically about all the core knowledge of a business, including but not limited to leadership, communication, law, finance, accounting, and management. If you are thinking of getting an online MBA USA, it is good to do some research before going into it. Find out about the programme structure, length, content, and cost, especially if you are applying for an online MBA in USA for international students.
Difference Between Traditional MBA and Online MBA
Before we understand the difference between an online and a traditional MBA, we need to explain generally what an MBA is. It is an acronym for a Master of Business Administration degree. When you start your MBA journey, you will essentially hone your managerial and leadership skills to be creative, problem-solving and effective. Subsequently, those who want to pursue a higher level of study after an MBA can look into enrolling in a doctorate in management or business where it is heavily focused on research and it can earn you a Doctor of Business Administration (DBA).
An MBA programme predominantly includes broad subject areas of study, ensuring that the core skills can be used anywhere in the public and private sectors. A general MBA is often not specialised, which is why learners will sometimes choose a specialised MBA. As such, a specialised MBA allows you to build on the general MBA core curriculum to be complemented with specific subjects like supply chain management, corporate finance, strategic management, entrepreneurship, etc.
A key difference between an online and a traditional MBA is how the course is conducted. An online MBA programme is conveniently delivered online, while a traditional MBA is commonly taught on-campus. With regards to curriculum, structure, and standards, there are generally not a lot of differences between the two. Notably, online MBA programmes can be completed quicker since they are not bound by physical attendance and hence are more flexible in nature. They could also involve accelerated options and are not dependent on a fixed mode of delivery as compared to a traditional class intake.
The main advantage of online learning is that students learn at the pace they prefer in the comfort of their own homes. Such flexibility in online learning allows them to juggle other personal commitments such as maintaining their businesses, completing work projects or looking after their family members. Enrolling in an online MBA programme provides adult learners and working professionals alike with a lot of advantages as they get to apply the knowledge learned through theory into real-world business scenarios.

In traditional MBA programmes, students go about and experience their learning environment in a physical classroom or venue, meeting their lecturers face-to-face. Basically, you need to be around in person and attend your lessons on campus. This method of learning also has some advantages. For instance, meeting with the professor and like-minded classmates face-to-face creates a more in-depth understanding and gives closer and more meaningful connections. If you have the time and money, this option might be suitable for you.
Alternatively, there are hybrid MBA degrees that involve both online and on-campus learning. With blended learning, you get to have a good mix of online study and some on-campus involvements. If you prefer the flexibility in the online study while enjoying intermittent face-to-face interaction, consider a hybrid MBA programme.
Why Get an Online MBA USA?
Having an MBA provides an added advantage to many working professionals. An MBA can improve your salary potential, build on your authority, give you more credibility in your scope of work, and enhances job prospects in your industry. Some people may still be confused about whether to pursue an online MBA or a traditional on-campus MBA programme. Since both MBAs have their pros and cons, it's best to weigh them out before deciding.

Here are some reasons why you should get an online MBA USA.
Flexibility
Balancing between work and family responsibilities can be challenging. On top of that, you still have to think about your future. Thankfully, online MBA programmes are available in asynchronous learning mode, allowing you to learn while doing other things. Online learning definitely offers a lot of flexibility to those who need to work full time or look after their family and still want to upgrade their qualifications.
Convenience
An online programme delivers the curriculum straight to learners via technology. Studying your MBA online not only allows you to excel in being adaptable and tech-savvy but it gives you a comfortable learning pace as well. Furthermore, a lot of online MBA programmes offer dedicated technical support to ensure students can troubleshoot a problem whenever it occurs. Personal consultation with faculty can also be arranged in advance.
Affordability
Tuition fees for an online MBA degree are generally affordable and you should be able to find an accredited online MBA degree in the USA ranging from $5000 to $10,000 per annum, depending on the university. Since you can study online, students automatically remove the need to commute to save some pennies for something else. Several online MBA programmes may also allow individuals to adjust the credits they want to take per semester and how long they need to complete for added convenience.
Career-focused
Apart from the convenience of studying your MBA online, many education providers cater to different needs and backgrounds to ensure that the programme enhances the prospects in one's career by providing specialities or electives in the curriculum. MBA learners get to learn from a broad perspective while staying focused in a particular field.
Wider Reach
Online MBA programmes attract learners from all parts of the world. While a traditional MBA classroom experience allows you to connect with like-minded peers, an Online MBA in USA allows you an even wider reach to connect with networks of top leaders and professionals globally on a different scale. So even if the learning experiences are short-lived, it makes a significant educational impact for all.
Online MBA USA: Tuition Fees
The cost of an online MBA varies and it is dependent upon several factors. The tuition fees can cost as high as over $100,000 for top-ranked programmes. National Centre of Education Statistics (NCES) says that the average cost for a two-year graduate degree stands at approximately $38,628. Generally, online MBAs are cheaper than on-campus MBAs.

Where you choose to take your online MBA also affects how much you'll need to pay. For instance, public universities are generally less expensive compared to private universities and sometimes you could get subsidised based on certain conditions. Local students might pay cheaper fees than international students or some public universities may charge the same fees to online students regardless of their status.

In addition, your mode of study could also affect the total amount you need to pay at the end of the day. While part-time MBA students can work and study at the same time, in general they need to study longer than a full-timer and miscellaneous fees within each semester still need to be paid and you might end up paying a little more in that scenario. A full-time MBA programme, on the other hand, has a heavier course load in terms of the curriculum but students can graduate much faster. There are also other expenses such as textbooks, administrative, workshop or registration fees that add to the total cost.
Students can take advantage of financial aid options that are offered to both online and on-campus students. For instance, certain governments offer financial aid to students enrolled in an online degree programme. Moreover, there are grants, scholarships, private loans which may assist in financing your online studies.

With many considerations, let's look at tuition fees for an online MBA programme in MDIS and awarded by the University of Central Oklahoma USA. The tuition fees cost you S$29,746.00, while the non-tuition fees are ranging from S$700.00 to S$1,700.00. Note that this fee structure is based on 16 months of study and is applicable for local applicants. Part of the non-tuition fees includes medical insurance, academic writing workshop, fee protection scheme, entrance fees, and subscription fees.

Local students who need financial assistance can apply for study loans from Maybank, DBS bank or TCC Limited. Alternatively, there are also 0% interest credit card instalment plans by several banks such as Standard Chartered, OCBC, DBS, UOB, Maybank, and Bank of China.

For international students, the fees for 16 months MBA programme cost S$30,816.00 excluding non-tuition fees which range from S$3,000.00 to S$4,400.00. Students also need to pay an extra S$481.50 for submitting an application.
Online MBA USA: Admission Requirements
The requirements vary from university to university. But some things are common in all educational institutions. For instance, you must submit your application and pay the processing fee first. Prospective students need to submit their academic transcripts for verification of admission criteria. Some universities in the United States will require a bachelor's degree in management, business, or any other related field and a competitive GPA.

Furthermore, there are instances where you may be asked to show records of your professional or executive work experiences to qualify for the programme and you may also be asked to submit a resume. Students could submit their application with their GMAT score, but this can be exempted if you fulfil some conditions.

Here are the admission criteria for the online MBA programme in MDIS for both local and international students.
A Bachelor's Degree with at 2.75 GPA on a 4.0 scale
GMAT overall score of at least 450 or GRE score of at least 300
A 500-word personal statement
Current resume
The English language requirements are; TOEFL internet-based test with an overall score of 79 or a score of 550 for the paper-based test or IELTS 6.5 overall band, or university-approved equivalent.

Applicants must show proof of a bachelor's degree. Their academic transcripts will be reviewed by the University of Central Oklahoma to see if they qualify.
Online MBA USA: Must Know Before Applying
The Cost of an MBA Programme
Tuition fees vary from school to school, depending on several factors. Students enrolled in a public school will pay less than those studying in a private school. Also, a state university can charge different amounts to in-state and out-of-state learners. A top-ranking MBA programme can cost more than $100,000. Fortunately, there are more affordable options as well. Make sure to do your research first before enrolling in a college. Additionally, check whether you are eligible for financial aids.
MBA is a Terminal Degree
An MBA degree is suitable for someone who wants to change or advance their career, meaning that it is a "terminal" degree. It's mostly considered the final education stop as most people pursue it once they have completed their undergraduate education. Most post-MBA plans vary and they depend on your career path and choices. MBAs can't be used as a transition to a higher degree but MBA graduates can decide to pursue DBAs or PhDs later on.
Between Part-Time and Full-Time MBAs
A full-time MBA course can take approximately four semesters, spread over two years, and students are given three or four months break for internship. During the first year, you're introduced to the core curriculum of the course. The second-year is when a student specialises. Part-time MBAs are common for working adults or professionals who work full time during the day and attend evening classes. In general, the duration of study may differ between institutions.
Anyone Can Pursue an MBA Programme
MBA programmes certainly thrive on diversity. Although some classes might have students from specific backgrounds, this entirely depends on the school. Applicants with business degrees, professional engagement, and any nationalities are eligible to pursue this course. Even those who don't have prior business training can take part in an MBA programme.
Why Online MBA USA from University of Central Oklahoma?
The University of Central Oklahoma offers transformative learning experiences. It's committed to producing excellent leaders in the competitive professional world. It has an Association to Advance Collegiate Schools of Business (AACSB) accreditation and was ranked among the best universities in the USA offering quality education during COVID-19 in 2020.
Get USA Online MBA in MDIS Singapore
The online MBA programme is awarded by the University of Central Oklahoma, USA, which is ranked No. 6 in USA for Colleges Where Students Feel Most Engaged by Wall Street Journal/Times Higher Education College Rankings 2016. In the programme, students will be taken through the key principles of management, preparing them for managerial and leadership positions. You will be taught to be more productive, creative, ethical in handling a variety of business environments.

Courses are taught online, but the learning times are very flexible. Various electives are included in the curriculum to help students choose a career path of their interest.
Conclusion
An online MBA can open many doors that will help you grow in your profession, as an individual, and in your finances. You can learn how to build and support a business while not ignoring your other obligations. You'll become a better manager and leader and react promptly to uncertain changes with this degree. Please visit the MDIS website for more information on the Online MBA Programme awarded by the University of Central Oklahoma.