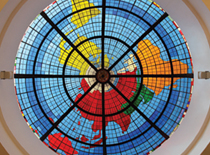 Continuing with its long-standing tradition of giving back to society, the MDIS Education Trust Fund (inaugurated in 1999) supports deserving students facing financial difficulties in pursuing their education in Singapore. To date, MDIS has awarded more than 8,000 scholarships and bursaries totalling over S$6 million. The institute also actively supports several charities and provides community assistance, in reaching out to the young, elderly, and disabled.
Equally vested in corporate-level training, MDIS' corporate training arm, the Management Development and Consultancy, was set up in 1995 to cater to the training needs of the workforce. In 2014, MDIS acquired the Service Quality Centre to diversify its offerings in training solutions – in its endeavour to be a premium provider of training solutions in the region.
Apart from the main Singapore campus, MDIS has international campuses in Tashkent, Uzbekistan, as well as in Johor, Malaysia. MDIS also has representative offices in China, India, Indonesia, Sri Lanka, and Thailand, as well as agents throughout Southeast Asia.

Why Study in MDIS Singapore
On-campus Hostel and Accomodation
Top Ranked University Partners
Contact Us
Local Students
International Students